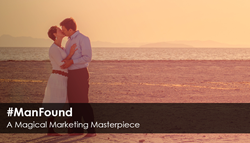 Getting super strategic with your marketing works whether you are trying to generate leads, make more sales, or secure your future spouse.
Kaysville, Utah (PRWEB) September 15, 2015
The day before Christmas 2014, Janelle Page, CEO of KickFire Marketing, released a video with the intention to find love. A remedy for her post-divorce dating disillusionment, the video – titled #ManHunt – allowed her to be more strategic in her online dating approach. And her strategy appears to have worked: a little more than eight months later, Page has released a followup video titled #ManFound.
Some serious science supported Page's #ManHunt initiative. Amy Webb in her TED Talk, "How I Hacked Online Dating," explained that limiting choice--by being "picky" and selective--and working within personal constraints resulted in better dating choices and relationship results. Taking this advice to heart, Page's #ManHunt video outlined exactly what she was looking for in a man, including a list of half-a-dozen "Deal-Breakers." Page also shared everything she had to offer in a relationship, providing testimonials from family, friends, employees, and neighbors.
When asked about her #ManHunt, Page explained, "Everyday I help business owners increase their business through customized, laser beam focused, marketing campaigns. Getting super strategic with your marketing works whether you are trying to generate leads, make more sales, or secure your future spouse. I knew a video would set my Match.com profile apart, while also providing a creative way for my friends and family to share my story with their social networks via Facebook, YouTube, Twitter and Instagram."
Page's #ManHunt video was a smashing success. Twenty-four hours after its release, #ManHunt had garnered over 700 views on YouTube, and was being actively shared on Facebook, Instagram, and Twitter. In less than 36 hours, Page was booked solid.
Intense dating lasted for an entire month before Page's interest flamed out, which resulted in a five month break from online dating. During her dating sabbatical, Page kept her Match.com profile active, but ignored the daily notifications. Working late on Friday, May 16th, Page succumbed to curiosity and opened up the latest batch of notifications. To her surprise, she had received a "favorite" from a single father of five children in Orem, Utah.
Matthew Misbach had seen Page's #ManHunt video three months earlier and was more than impressed. As she checked out his online dating profile, she became interested enough to reach out.
When asked about their first interactions, Misbach confessed, "Janelle was so fun to email and talk to. We instantly hit it off! In fact, it was quite uncanny how much we had in common." The two began dating, and as most love stories go, the rest is now history. A history that has been well documented online.
Misbach and Page will be married in the Ogden LDS Temple on Thursday, October 8, 2015. Page's public release of #ManFound was accompanied by an especial thanks to all those who helped her #ManHunt succeed by liking, commenting and sharing her video on Facebook, Twitter, Google+, Instagram, and YouTube. She fully attributes her successful campaign to her friends, Match.com, the power of video and social media marketing, and, of course, Divine orchestration.
About KickFire Marketing:
KickFire Marketing Agency is a boutique Marketing Firm located in Kaysville, Utah, and specializes in creating customized, laser beam focused marketing campaigns. If you are looking for a fun, creative marketing team that can create customized, strategic campaigns that are crazy awesome and convert like crazy, call KickFire Marketing at 801-800-8608 or visit Kick-Fire.com and light up your business today!