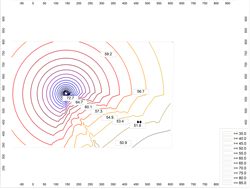 Westfield, IN (PRWEB) October 02, 2015
eNoise Control was recently contracted by a regional grocery store to measure sound levels from a rooftop condenser system that was causing noise complaints from a residential neighborhood. The property line was approximately 350 feet from the condensers and producing noise levels above ambient, especially during the nighttime hours.
eNoise performed acoustical consulting work on-site. An experienced Acoustic Consultant measured the noise levels both on the roof and, more importantly, at the property line. The acoustic report offered feasible sound control options for the client and included a sound modeling to project noise reduction using an exterior noise barrier wall. eNoise was able to select the appropriate sound wall height and width to help the client meet their acoustic goals. The absorptive sound wall was installed and did achieve the client's noise reduction goals.
An exterior sound barrier wall blocks the direct sound path of an unwanted and disturbing noise source from the receiver. eNoise Control modular sound walls are engineered with a sound absorptive facing to help reduce and eliminate any reflective sound energy. The wall system has a solid backing to block unwanted noise from transmitting to the receiver. Most of our applications are exterior, outdoor, property line related projects. These projects include utilities, power companies, gas compressors, electric transformers, high pressure blowers, roof top units, condensers, dust collectors, and more.
Proper design of the barrier is critical to the wall's effectiveness in noise abatement. Rules of thumb include a minimum of blocking the line of sight and engineering the sound wall higher and wider depending on the acoustical goals of the project, such as a decibel reduction level. Some clients find they need to meet a local city noise code or regulation. These noise ordinances typically state a maximum sound level for daytime and maximum decibel level for nighttime.
As the nation's population continues to grow and some communities are becoming denser, environmental noise at our property lines has now become a higher priority for property owners. Loud noise from live music venues, bars, restaurants, HVAC equipment, traffic, and other sources can cause a nuisance and can potentially violate local noise ordinances. eNoise Control offers acoustic consulting for such property line noise issues. We help our clients navigate the decibel level, local noise codes, and rights as a property owner when it comes to noise.
eNoise Control provides professional assistance with all of these engineering factors. We offer engineered design assistance, sound level readings in the field, acoustical calculations, sound mapping, and guaranteed results.