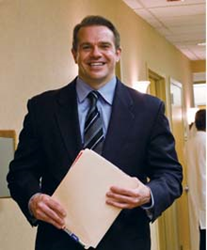 leading a team that shares my commitment and personal devotion to provide an environment that fosters a continuum of extraordinary, multidisciplinary care makes the rewards of our work outstanding
Hackensack, NJ (PRWEB) September 10, 2015
Dr. James C. Wittig, Vice Chairman, Orthopedic Surgery; Chief, Orthopedic Oncology and Sarcoma Surgery at Hackensack UMC and Director, Skin and Sarcoma Division at the John Theurer Cancer Center in New Jersey has been named one of the nation's top cancer doctors by Newsweek. In the realm of quantification, Dr. Wittig not only meets the criteria for his accolades wholeheartedly but surpasses each with his 'undeniable compassion,' his direct doctor-patient relationships and an ongoing commitment to treating musculoskeletal cancers with the most innovative advances.
According to the NIH/National Cancer Institute, in 2015 an estimated 1,658,370 new cases of cancer will be diagnosed in the United States, and 589,430 people will die from the disease.
Newsweek, in conjunction with Castle Connolly Medical LTD, the well respected publisher of America's Top Doctors®, is proud to present the list of the "Top Cancer Doctors 2015 " for the United States. This list was compiled through peer nominations and extensive research that Castle Connolly Medical LTD. has conducted for more than two decades. The Castle Connolly physician-led research team makes tens of thousands of phone calls each year, talking with leading specialists, chairs of clinical departments and vice presidents of medical affairs, seeking to gather further information regarding the top specialists for most diseases and procedures. Each year, Castle Connolly receives nearly 100,000 nominations via this process. After a careful review of credentials, Dr. Wittig has been selected to be a part of the Newsweek "Top Cancer Doctors 2015" list. http://www.newsweek.com/top-cancer-doctors-2015
The acknowledgement and accolade by Newseek provides patients an opportunity to confirm their decision to seek out Dr. Wittig for specialty care. For many current and past patients, finding Dr. Wittig proved to be a positive beginning of an uncertain journey but one guided by a true leader in his field. The difficulties of Orthopedic oncology treatments are lessened by the advances that Dr. Wittig has achieved in his 14+ years handling an array of cases from the straightforward to the most complex ones in nature. "Although most would agree that oncology cases are the toughest, I am truly challenged by each and every diagnosis, confronting them with a customized plan as individual as each patient," notes Dr. Wittig, "leading a team that shares my commitment and personal devotion to provide an environment that fosters a continuum of extraordinary, multidisciplinary care makes the rewards of our work outstanding."
About Dr. Wittig
James C. Wittig, MD specializes in limb-sparing surgery; pediatric and adult bone and soft tissue sarcomas; melanoma; benign musculoskeletal tumors; metastatic cancers; as well as complex hip and knee replacement surgery. He also has special expertise with regard to tumors that affect the shoulder girdle and scapula. In addition to his Hackensack University Medical Center office located at 20 Prospect Avenue, Suite 501, Hackensack, NJ, Dr. Wittig has a Morristown Office within Tri-County Orthopedics, 190 Ridgedale Avenue, Suite 300, Cedar Knolls, NJ 07927. He is a member of the American Academy of Orthopedic Surgeons; New York State Society of Orthopedic Surgeons, Inc.; and the Medical Society of New Jersey. He has published over 90 educational materials ranging from original reports, abstracts, videos and articles in the following publications: Clinical Orthopedics and Related Research, The Journal of the American College of Surgeons, American Family Physician, Journal of Arthroplasty, Radiology and Journal of Bone and Joint Surgery. He is also a prominent lecturer in the field of Orthopedic Surgery throughout the nation. Dr. James C. Wittig has been interviewed in national and local print, TV and radio outlets including The Dr. Oz Show, New York Daily News and other publications. He has also been recognized as one of "The Nation's Top Doctors" by New York Magazine. For more information about this or other related topics, or to schedule an appointment, please call, in NJ,551-996-2533 or out of state, 1-855-DRWITTIG (1-855-379-4884), visit TumorSurgery.org or email Dr. Wittig at drjameswittig(at)gmail(dot)com.