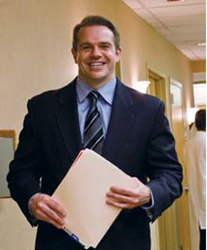 Not only are we grateful for the opportunity to present our research - dedicated specifically to the realm of orthopedic oncology - but honored that we can share our findings and data with colleagues from around the world
Hackensack, NJ (PRWEB) September 10, 2015
Dr. James C. Wittig, Vice Chairman of Orthopedic Surgery, Chief of Orthopedic Oncology and Sarcoma Surgery at HackensackUMC and Director of Skin and Sarcoma Division at the John Theurer Cancer Center in New Jersey announces the acceptance of 14 research abstracts presented at the 18th Annual Meeting of the Musculoskeletal Tumor Society and International Society for Limb Sparing Surgery. The meeting is held annually in Orlando, Florida, and is being held this year from October 6th-10th. At the meeting, experts present research and discoveries to fellow attendees.
"Not only are we grateful for the opportunity to present our research - dedicated specifically to the realm of orthopedic oncology - but honored that we can share our findings and data with colleagues from around the world." notes Dr. Wittig, "my dedicated team of research assistants and fellows can be proud of their hard work and gain the knowledge that the time and energy in producing these abstracts will undoubtedly benefit those in the field."
About Dr. Wittig
James C. Wittig, MD specializes in limb-sparing surgery; pediatric and adult bone and soft tissue sarcomas; melanoma; benign musculoskeletal tumors; metastatic cancers; as well as complex hip and knee replacement surgery. He also has special expertise with regard to tumors that affect the shoulder girdle and scapula. In addition to his Hackensack University Medical Center office located at 20 Prospect Avenue, Suite 501, Hackensack, NJ, Dr. Wittig has a Morristown Office within Tri-County Orthopedics, 190 Ridgedale Avenue, Suite 300, Cedar Knolls, NJ 07927. He is a member of the American Academy of Orthopedic Surgeons; New York State Society of Orthopedic Surgeons, Inc.; and the Medical Society of New Jersey. He has published over 90 educational materials ranging from original reports, abstracts, videos and articles in the following publications: Clinical Orthopedics and Related Research, The Journal of the American College of Surgeons, American Family Physician, Journal of Arthroplasty, Radiology and Journal of Bone and Joint Surgery. He is also a prominent lecturer in the field of Orthopedic Surgery throughout the nation. Dr. James C. Wittig has been interviewed in national and local print, TV and radio outlets including The Dr. Oz Show, New York Daily News and other publications. He has also been recognized as one of "The Nation's Top Doctors" by New York Magazine. For more information about this or other related topics, or to schedule an appointment, please call, in NJ,551-996-2533 or out of state, 1-855-DRWITTIG (1-855-379-4884), visit TumorSurgery.org or email Dr. Wittig at drjameswittig(at)gmail(dot)com.