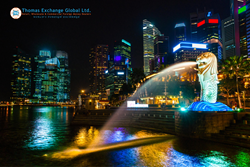 To facilitate British Motor Sports fans visiting Singapore for the race, Thomas Exchange Global announces highly competitive exchange rates for travel money
London, UK (PRWEB UK) 11 September 2015
Singapore is preparing for its annual Formula One event, three days of Grand Prix night racing set to take place on Sept. 18-20 this year. Just weeks before the race is scheduled to commence, Singapore Airlines announced it will be extending its sponsorship of the event by two additional years. Thomas Exchange Global responds to Formula 1's growing popularity and anticipation leading up to the event next week by offering British motor sports fans heading to the race unparalleled exchange rates for their travel money needs.
As reported by Reuters in an article published August 20th, 2015, Singapore Airlines has been a sponsor of the Formula 1 event since 2014, now extending its sponsorship through year 2017. The article also mentions that due to recent rescheduling of Malaysia's Grand Prix event, next year and for the first time ever, Singapore will hold its Grand Prix back-to-back with its neighbouring country's. If the provisional race calendar published in July remains as is, the adjacent scheduling of events would create the ideal scenario for long distance travellers interested in attending both races.
To facilitate British Motor Sports fans visiting Singapore for the race, Thomas Exchange Global announces highly competitive exchange rates for Singapore dollars and other Far Eastern currencies. A currency specialist with 11 locations based in London, Thomas Exchange Global is anticipating Singapore will experience an influx of British fans and meets the projected demand by offering especially competitive exchange rates for travel money this September.
"British fans are very excited to cheer on Lewis and other UK-based teams after their recent successes. Besides the fun, carnival-like atmosphere of the night racing events, Singapore is much warmer in comparison to the UK—serving as added motivation for Brits to travel to the Far East to find reprieve from the cold while getting to see the event live in person. We are expecting a high demand for Singapore Dollars throughout next week," said Trevor Samuel, Senior Manager of Thomas Exchange Global.
https://www.stb.gov.sg/statistics-and-market-insights/marketstatistics/ivastat_jun_2015%20(as@25aug15).pdf [Recent statistics released by the Singapore Tourism Board __title__ UK tourists in Singapore] suggest that UK provides the largest market of tourism from Europe. The trend in tourism implicates that the Grand Prix in Singapore is no longer a stand-alone event, but rather, an opportunity for distant travellers from the UK to visit other nearby locations—such as Bangkok, Ho Chi Minh City, and Sibu.
Thomas Exchange Global forecasts that a high percentage of the long-distance travellers to the Far East for F1 will continue exploring other nearby countries following the night racing event in Singapore. As such, the foreign currency exchange specialist will be offering highly competitive rates for the Thai Baht, Malaysian Ringgit, and the Indonesian Rupiah—amongst other Far Eastern currencies.
"Being London's top foreign currency dealer—charging zero commission on our travel money services and stocking each branch location with over 120 different types of foreign bank notes sold without any waiting period at the most competitive exchange rates found in the city, we are fully geared to offer the best travel money deals this Autumn," affirmed Trevor.
About Thomas Exchange Global:
As dedicated foreign exchange specialists, Thomas Exchange Global has the professional expertise, in depth market knowledge, technological infrastructure, and commitment to provide an unprecedented level of service that sets the standard in the foreign exchange industry. They are specialists in all areas of foreign exchange. They provide commission free currency as well as travellers cheques.
Thomas Exchange Global also offers International Money Transfer Service where funds can be remitted to overseas bank accounts within one to two days. With commission free service for transfers over £10,000 backed by competitive exchange rates, customers are assured of a better deal and a substantial saving compared to banks and money brokers.
Thomas Exchange Global branches are located at Strand, Embankment, Victoria Street, Victoria Place (Victoria Rail Station), Liverpool Street, London Wall, Hammersmith, High Street Kensington, Cannon Street, Canary Wharf, and Richmond.
For further details visit http://www.thomasexchangeglobal.co.uk, or call 020.7240.1214.