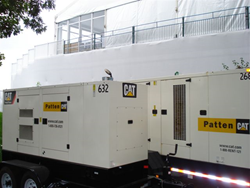 "It certainly is something we've never done before, but we are confident in our equipment and fleet, our knowledge and expertise, and the Patten Cat people to pull this off," said Mike Madej, manager of Patten Cat Power Rental. "We think it
Elmhurst, Ill. (PRWEB) September 10, 2015
Patten Cat Power Rental, a division of Patten Cat, has taken on hurricanes, tornadoes and snow storms to provide back-up power support, but to take on the remote power and A/C needs of three major sporting events with several hundred thousand spectators combined is even quite a feat for Northern Illinois' leading Caterpillar power rental company. But, that is exactly what will happen the week of September 14-20 at the BMW Championship, ITU World Triathlon Grand Final Chicago, and NASCAR Sprint Cup Series.
"It certainly is something we've never done before, but we are confident in our equipment and fleet, our knowledge and expertise, and the Patten Cat people to pull this off," said Mike Madej, manager of Patten Cat Power Rental. "We think it says something for these three great venues to put their trust in us. We're excited to be involved with each and every one of them."
According to Madej, the three events are happening simultaneously across the Chicagoland area – BMW Championship in the Northern Suburbs, the Triathlon in downtown Chicago, and the Sprint Cup Series in Joliet, Ill. in the far Southwest Suburbs. What makes this unique is that Patten Cat will supply power generation and temperature control equipment for three separate events at the same time across such a wide footprint in a major metropolitan area where logistics can be challenging.
The three events collectively will require over 122 generators that will supply over 17,350 kilowatts of power; require some 22 miles of cable; have 58 air conditioners providing approximately 1750 tons of cooling; and rely on 12 technicians with over 179 man years of experience.
Each venue represents a different application for Patten Cat Power Rental services. The BMW Championship is relying fully on Patten Cat generators to support the whole event over the 209 acre Conway Farms Golf Course except at the main club house facilities. Additionally, Patten Cat will provide temperature control (A/C) for merchandise tents, hospitality suites, the media tent, and other temporary facilities where air conditioning is needed. The generators will also power all of the scoreboards around the course.
The ITU World Triathlon Grand Final Chicago presents mixed use of equipment over the large, diversified course in an urban setting -- downtown Chicago. As part of the power system, Patten Cat will supply redundant generators used for the television feed so loss of coverage will be avoided should first-line power fail.
The NASCAR Sprint Cup is relying on Patten Cat for power in key spectator-focused areas critical to the event's success. Since some of the races will be held in the evening, Patten Cat will provide backup for lighting on the race track to ensure safety for the drivers in the event there is a power outage.
Patten Cat has worked with the BMW Championship (formerly Western Open) for over 20 years and has worked with the Chicagoland Speedway for 50 NASCAR events over the past 14 years. The Triathlon presents a new challenge because of a very short timeframe for set up and the challenges of working at a venue in a busy urban setting, such as downtown Chicago.
The logistics and coordination it will take to support these events are enormous, according to Madej. Equipment will be transported from Patten Cat's five locations, including its main power rental facilities in Elmhurst, Ill., to the venues spread over a 60 mile radius. "Yes, the requirements are a bit staggering, but we have the capabilities to get this done," said Madej.
"Patten Cat Power Rental has taken on some very demanding challenges in the past and each time we've risen to the challenge," Madej said. "This is no different. Our goal is to be as seamless as possible and address any power hiccups that may occur. In a way, we like being behind the scenes so people have an enjoyable experience and never think once about the power or air conditioning going down."
About Patten Cat
Patten Cat's mission has not changed since B. C. Patten, Sr. founded the company in 1933. Simply put, Patten Industries is here to deliver a superior standard of customer satisfaction by providing quality products and unparalleled services. With over 450 employees in five locations, Patten Industries is the exclusive Caterpillar dealer in Northern Illinois. It has four operating business units -- Patten Construction Products; Patten Power Systems; Patten Truck Centers; and Great Lakes Equipment Co. The company's headquarters is located at 635 W Lake St, Elmhurst, IL 60126. For more information, please visit http://www.pattencat.com/power/rental-power-equipment or join us on https://www.facebook.com/pattencat; https://www.linkedin.com/company/patten-industries; or https://twitter.com/pattencat