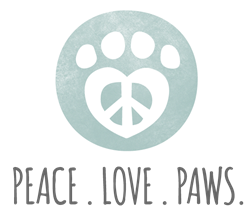 Peace. Love. Paws. is a lifestyle apparel and gift company inspired by Gander's own bond with her animals, and created to fill a void for fashionable, high-quality apparel for animal lovers like herself
Wisconsin Dells, Wisconsin (PRWEB) September 10, 2015
Alissa Gander, owner of Peace. Love. Paws., was recently named a finalist in the Women in the Pet Industry Network's (WIPIN) 2015 Pet Industry Woman of the Year Awards in the category of "Solopreneur." The WIPIN awards were designed to recognize the outstanding women who dedicate their time and talents to improving the lives of all types of pets – from dogs to cats, birds, fish, horses, exotic animals and more. The award categories include: Solopreneur, Entrepreneur, Corporation, Advocate and Rising Star.
Nominees are judged by a secret panel of business leaders who share WIPIN's passions and mission, and five women are named finalists in each category. The nomination process includes a self-submitted essay and an interview process. This year, the 25 finalists were selected from an entry pool of more than 400 women.
Gander's love for animals began when she was a child and grew throughout college while she was earning a Business Management degree. While in school, she owned and operated an animal hospital and pet resort, which only fueled her passion. Today, Gander is a wife, mother of two young boys and fur-mother to Bogey, a black lab / put bull mix, and Izzy, a rat terrier / chihuahua mix.
Peace. Love. Paws. is a lifestyle apparel and gift company inspired by Gander's own bond with her animals, and created to fill a void for fashionable, high-quality apparel for animal lovers like herself. The site launched November 2014, and has grown immensely in just 10 short months. All of the apparel at Peace. Love. Paws. is made with tri-blend, super soft material in a variety of styles and prints, including signature crew necks, long sleeve scoop necks, unisex tees, hoodies and dolman tees. In addition, they also offer fur-baby themed greeting cards, jewelry, scarves and special holiday gifts.
The Peace. Love. Paws. name came to be while Gander was trying to explain what it felt like to love and be loved by an animal. It represents the ultimate sense of peace when you share a unifying bond with an animal.
For more information about Peace. Love. Paws., visit http://www.peacelovepawsco.com. To read about all the finalists in the Women of the Year Award, click here: http://www.womeninthepetindustry.com/piwy-award-finalists-2015/