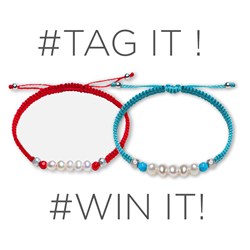 (PRWEB) September 10, 2015
The "TAG IT WIN IT" contest is open to all of Nishi Pearls' Instagram followers as well as anybody interested in being a follower.
To launch the contest, Nishi Pearls will post an image on Monday September 14th featuring the final prize: two colourful macramé bracelets with Genuine Cultured freshwater pearls.
To enter, participants must follow two simple steps before September 21st:
1) Follow Nishi Pearls on Instagram
2) Tag a friend's name in the comments section of the image
Participants can tag as many friends as they wish to increase their chances of winning. The bracelets are intended to be shared by the winner and the tagged friend. The winning duo will be announced a week later on September 21st and will be asked to take a picture wearing their prize and tagging Nishi Pearls.
Nishi Pearls encourages any interested participant to visit them on Instagram and stay tuned for their "TAG IT WIN IT" contest on September 14th.
Nishi Pearls™ is a brand that specializes in designing and creating a wide range of genuine cultured pearl jewelry that creates the perfect marriage between classic and contemporary. With offices located in Asia, Canada and the U.S.A., Nishi Pearls has been making its mark at some of the most prominent international jewelry fairs including the Jewelers International Showcase, the Orlando Duty Free Show of the Americas and the Jewelers' Circular Keystone's (JCK) annual trade show in Las Vegas, to name a few.
Nishi Pearls' dedication to quality is reflected in its partnerships with leading professionals, including their latest co-branding endeavor with Swarovski as well as Air Canada's Inflight program. Their award-winning jewelry is inspired by the consumer of today and the fashion of tomorrow.
Visit them at: http://www.nishipearls.com