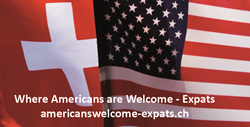 Switzerland welcomes American expats.
Brütten, Switzerland (PRWEB) September 14, 2015
After the US crackdown on Americans with undeclared assets in Switzerland and other offshore locations, Swiss banks generally told their American clients to close their accounts, even if they were living and working in Switzerland.
Times have changed. With FATCA and extra regulatory measures now in place, a few Swiss banks welcome American expats in Switzerland with open arms. They can be found on the newly launched Swiss platform "Where Americans are Welcome–Expats" at americanswelcome-expats.ch.
The platform lists more than just banks. It lists all kinds of business-related companies, e.g. insurance advisers, financial advisers, relocation and concierge services and more, with English-speaking staff eager to serve Americans living in Switzerland as well as expats-to-be with their relocation and getting-established needs.
After a meeting in Zurich with a representative of the Swiss Business Hub, New York, CEO Anne Liebgott, was inspired to include a Business Hub section listing companies that help Americans establish a business or open and run an office in Switzerland. The Business Hub is still being developed and Swiss professionals happy to serve Americans can list their services.
Anne explains, "After the successful launch of the parent platform at americanswelcome.ch in 2014, which lists the over 40 Swiss wealth managers registered with the Security and Exchange commission in the United States, providing tax-compliant, cross-border wealth management services to American clients domiciled for the most part in the US, I was urged by many Swiss-based businesses to create a platform specifically for American expats in Switzerland. In our globally mobile world, there is a real need to show that Switzerland welcomes American clients."
Martin Naville, CEO of the Swiss-American Chamber of Commerce states on WAAW, "Where Americans are Welcome is a great service for all US persons and a strong sign that Switzerland is open for business with American citizens."
"Let's just stick to business," Anne says. "There are enough expat community websites that give tips on where to dine and what to see and they are listed in our Community section." Unlike other expat-dedicated websites, WAAW-Expats is exclusively for Americans. It is business-related, easy to navigate and does not require registration, collecting no data on visitors to the platform.
WAAW is an independent and unbiased research platform based in Brütten, Switzerland and does not analyze, compare, recommend, prefer, solicit or discourage any particular listed Swiss SEC-registered investment adviser or other service provider.
Contact:
Anne Liebgott
WHERE AMERICANS ARE WELCOME
Zelglistrasse 19
8311 Brütten
Switzerland
Tel: +41 79 767 07 58
anneliebgott(AT)americanswelcome.ch
americanswelcome.ch
americanswelcome-expats.ch