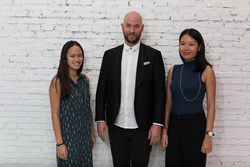 The idea was to build the know-how locally rather than bringing it.
Shanghai (PRWEB) September 18, 2015
Since its extension into China less than 3 years ago, Digital Luxury Group (DLG), the digital partner of forward-thinking luxury and premium brands, has been retained by prestigious organizations such as Four Seasons Hotels & Resorts, Montblanc, MCM, and Fendi to handle their digital activities in China.
"We leverage data and analytics to create brand experiences especially tailored to the upscale Chinese customer," says Pablo Mauron, who started the Shanghai presence of DLG and is General Manager of DLG China.
New creative space designed to foster creativity and develop talents
In Shanghai, DLG has moved its growing team into a brand new creative space in the heart of the city, designed to foster ideas and stimulate teamwork. Currently composed of 30 professionals, the Shanghai office will now be able to accommodate at least 20 new talents. "One of the biggest challenges in China is to attract and retain local talents. Our team is comprised of local profiles with international education and work experiences in the luxury field; the idea was to build the know-how locally rather than bringing it from overseas," shares Mauron.
A strong focus on Chinese travelers
One of DLG China's key strengths is in building aspiration for a brand, from capturing attention to generating desire, all in order to translate visibility into sales whether locally or overseas. "It goes beyond helping retail and hospitality brands to grow within China, it's also about using advanced digital tactics to influence the strategic and growing segment of Chinese customers traveling more and more abroad," explains Iris Chan, Head of Client Services, who recently spoke at the Luxury Society Bloomberg conference in New York on this exact topic.
Importance of research & insights
DLG is the publisher of leading research reports such as the WorldWatchReport™ and World Luxury Index™ China, and this fall will be releasing a special report on the state of luxury communications in China in partnership with the country's leading search engine, Baidu. "We're really looking forward to releasing a unique set of data and insights on what matters most to Chinese consumers," commented Elsie Zhang, Client Strategy Director at DLG China.
Digital Luxury Group's Founder & CEO, David Sadigh, concludes, "Talent is everything, we are really proud of the team we have created in China and of the results we have been delivering for our clients and we're looking forward to an exciting future."
About Digital Luxury Group
Digital Luxury Group (DLG) is an international agency providing bespoke digital marketing and communication services for forward-thinking luxury brands. Blending luxury savoir-faire, industry insights, and digital expertise to deliver results-driven strategies and solutions, DLG works with top luxury and premium brands across offices in Geneva, Shanghai, Paris, and New York.
Clients of DLG China include Montblanc, Four Seasons Hotels & Resorts, TAG Heuer, Landmark, Lauréates International Universities, Baume & Mercier, Leica, MCM, Kempinski, Blue Nile, Chow Tai Fook, Fendi, and others.
DLG is the publisher of the World Luxury Index™ China, covering over 400 luxury brands including: Audi, BMW, Chanel, Estee Lauder, Louis Vuitton, Dior, Lexus, Mercedes Benz, Porsche, Lancome, Gucci, Lamborghini, Hermes, Volvo, Chow Tai Fook, Clinique, Cartier, Infiniti, Land Rover, Cadillac, Burberry, Coach, Shiseido, Prada, Ferrari, Omega, Armani, Swarovski, Tiffany & Co., Jaguar, Bentley, Rolls Royce, Maserati, Sheraton, Rolex, Biotherm, Lincoln, Borghese, Maybach, Longines, Clarins, Kiehl's, Hilton, Benefit, Acura, InterContinental, Elizabeth Arden, Versace, Anna Sui, Guerlain, and more.
High resolution pictures of the office opening party available upon request.