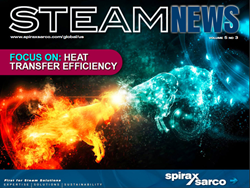 (PRWEB) September 09, 2015
Spirax Sarco's September 2015 digital issue of Steam News is now available and is packed with exciting educational information and advice on how to make changes within a plant's steam system so that those heat transfer processes become more efficient.
Highlights of the issue include:

The Fundamentals of Heat Transfer Efficiency - Learn how energy transfer is one of the fundamental applications underpinning many industrial processes including space heating and hot water.
Prevent Exchange Waterlogging - Discover how waterlogging in steam heat exchangers can cause poor temperature control and premature failure.
How Steam Quality Affects Heat Transfer - Gain an understanding on how good steam quality is essential to the heat transfer process.
10 No-Doubt-About-It Ways to save you Money, Energy and Steam - Read about 10 ways that you can reduce energy costs to improve your plant's operating efficiency and improve product quality.
Additional content is also available including industry editorial, training opportunities, product innovations, energy saving tips, maintenance tips and much more to help improve plant production, sustainability and energy efficiency. To download the September 2015 issue of SteamNews go to: http://bit.ly/1L5zDiK.
SteamNews is a digital magazine published quarterly for plant managers, facility and operation professionals and engineers in the manufacturing industry. The goal of this publication is to provide readers with the expertise and solutions to make informed decisions as they relate to the needs of their steam system facility.
###
About Spirax Sarco, Inc.
For engineers around the world Spirax Sarco is synonymous with excellence in steam system management. We offer the industry's most extensive range of products and services, coupled with expertise based on over a century of practical application across a variety of industries. In short we create the solutions that set the benchmark for steam-using organizations worldwide, working alongside them to improve productivity, save energy and reduce waste.
Our commitment to customers is supported by over 1,100 dedicated engineers, a direct sales force in 55 countries worldwide, through which we serve customers in around 100 countries and complemented by substantial investment in state-of-the-art locally based manufacturing. Our aim is to help customers build sustainable and profitable business, using their country and industry insight to tailor solutions precisely to their needs. Further information can be found at http://www.spiraxsarco.com/global/us.