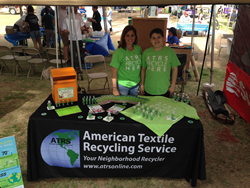 The Walk Like MADD Shoe Memorial, sponsored and installed by ATRS, represents the total lives lost this year by drunk driving incidences.
Dallas, TX (PRWEB) September 14, 2015
The annual Walk Like MADD 2015 event is fast approaching in key cities nationwide. This year American Textile Recycling Service (ATRS) joins the campaign as a title sponsor in Dallas, Fort Worth, Nashville and Tucson to help stamp out drunk and drugged driving in our communities.
ATRS Recycling will once again sponsor and install the Walk Like MADD Shoe Memorial at Dallas and Ft. Worth events to represent the total lives lost this year by drunk driving incidences. Each shoe is placed in memoriam of those sons, husbands, brothers, sisters, mothers, wives and friends. The memorial is placed onsite at the Walk to help communities celebrate the lives of lost loved ones and serves as a poignant reminder to us all of the importance of ending drunk driving.
The Dallas and Ft. Worth Shoe Memorials will each display about 1500 pairs of shoes, the total of lives lost statewide in 2014. Attendees are invited to stop by and pledge continued support of MADD to decrease the memorial size at the Walk Like MADD in 2016.
ATRS is a year-round recycling partner of Mothers Against Drunk Driving in Dallas, Fort Worth, Oklahoma, Tulsa, Tucson and Nashville. Through this partnership, residents in these cities participate in year-round Clothing & Shoe Recycling to raise funds for MADD programs and services. Simply by dropping off donations of gently used, out of season, unwanted clothing, shoes, toys and household textiles into easy, convenient donation bins bearing the MADD logo, supporters are taking meaningful steps to eradicate this deadly cause of lost lives in our communities. Every pound collected is weighed and generates much needed monthly funding for lifesaving education, advocacy and victim support.
As a $5000 sponsor, ATRS will provide all Start, Finish and race banners for the events, community posters, flyers and printed materials to spread the message of this important mission. ATRS volunteers will be onsite with fun giveaways to make the race informative, interactive and enlightening for attendees, supporters and spectators alike. Convenient Clothing & Shoe Recyclers will be placed at each race to collect warm up gear, sneakers, unwanted clothing, shoes and household textiles to increase the funding MADD receives during race months.
If you cannot Walk Like MADD this year, you can still make a difference by donating to a registered participant or team. There is even an option to sign up as a "virtual walker" in order to start your own team online.
To find a donation bin bearing the MADD logo nearest you, call the 24-Hour Hotline at 1-866-900-9308, or visit our website for more details.
American Textile Recycling Service (ATRS) is the nation's fastest growing textile recycler and a leading member of the S.M.A.R.T. Association. Its socially responsible business model provides free textile recycling solutions for the public, job stimulation worldwide and much-needed funding for worthy local charities. Easy, convenient ATRS Recyclers are available throughout Phoenix, Scottsdale, Tempe and Tucson AZ, Michigan, San Antonio, Austin, Dallas, Houston, Galveston