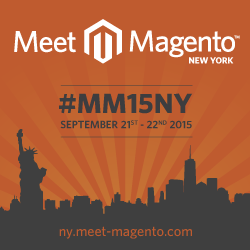 New York, NY (PRWEB) September 10, 2015
On September 21st and 22nd, retail and technology leaders alike are gathering at the Digital Sandbox in downtown New York City at Meet Magento New York 2015. Hosting this event is Interactiv4, a NYC-based Magento Silver Solution Partner that plans to recreate the electric and engaging atmosphere that they produced at last year's Meet Magento New York 2014.
Meet Magento is a non-profit organization that supports Magento users worldwide, working with all companies involved in commerce or distribution. The goal of Meet Magento is to recruit industry leaders to come teach users how to navigate the tangled web that is eCommerce. Currently, Meet Magento events occur in more than 24 countries, on three different continents! You can catch a Meet Magento event in Brazil, Spain, Germany and even Vietnam, but the only one in the United States is right here in the Big Apple.
Meet Magento New York will have more than 30 speakers throughout the two days, including two Keynote Speakers, Ben Marks from Magento/eBay and Bob Schwartz, CEO of 47B and ex-President of Magento that will present in the Broad Street Ballroom. After the Keynote Speakers, the ballroom will transform from a seated area into an evening party, with a DJ, break dancers and plenty of drinks. This event will also give you the opportunity to interact with sponsors, which include top eCommerce firms such as Nucleus Commerce, Nexcess, dotMailer, Zoomph, 47B and Creating Digital.
For any retailer, developer or technology buff, this is an event that you do not want to miss. If you would like to learn more about this event, please go to http://ny.meet-magento.com.
About interactiv4, Inc. interactiv4 (http://www.interactiv4.com/) is a Magento Silver Solution Partner and global e-commerce solution provider, which has operated with international brands since 2010. Founder and CEO Ignacio Riesco and Partner Juan Alcántara have been involved in the eCommerce industry for over a decade, applying their strong IT background to companies on an international level. About two years ago, interactiv4 expanded its global footprint, with the launch of a new office in New York City. Led by its Managing Director, Kimberely Thomas, the New York office offers brands extensive expertise in e-commerce development.