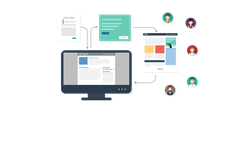 JobTarget offers great solutions that combine nicely with our innovative job advertising platform
Thunder Bay, Ontario (PRWEB) September 10, 2015
Recroup and JobTarget today announced a strategic partnership to seamlessly integrate Recroup's unique job advertising platform with JobTarget's OneClick Recruitment Platform, enabling JobTarget users to tap into a larger talent pool of passive candidates.
Using JobTarget's OneClick Platform, users can now search for and utilize Recroup's platform to seamlessly convert their job postings into engaging banner ads and display them to targeted candidates where they spend time online.
"JobTarget offers great solutions that combine nicely with our innovative job advertising platform," said Amit Chauhan, CEO of Recroup. "We believe that users will benefit from this partnership that seeks to improve the process of finding and hiring the best candidates," said Andrew Banever, CEO of JobTarget. Both companies together can provide employers a complete recruitment marketing solution to target, reach and retain passive job seekers.
Over the past year, JobTarget has grown its business by securing key partnerships that enhance its recruitment platform and offer its users the most effective choices in job distribution. Recroup is committed to providing talent acquisition solutions that are affordable and allow recruiters to engage and connect with the specific talent they need.
To access the Recroup platform via JobTaget, simply visit http://www.JobTarget.com and begin using OneClick.
About JobTarget
Offering the leading online recruitment platform, JobTarget helps Fortune 1000 companies, recruitment advertising agencies and small businesses improve the process of finding and hiring the best candidates. With a network of over 20,000 job sites and integration with leading ATS providers, clients have access to a robust media platform and an extensive selection of services that will maximize a recruitment effort.
About Recroup
Recroup is a recruitment marketing automation platform that allows employers to convert job postings into engaging banner ads and display those job ads to highly targeted candidates on the web and Facebook.