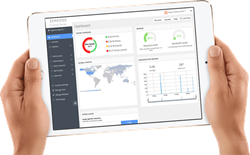 ZENEDGE has combined cutting-edge cybersecurity with ease of implementation and monitored protection in a way that has not been done before.
Los Angeles, CA and Toronto, ON (PRWEB) September 10, 2015
ZENEDGE, a leader in Cloud-based cybersecurity solutions, and Tenzing, a leading ecommerce infrastructure, performance and security provider, today announced a strategic partnership where Tenzing will offer its global ecommerce clientele Tenzing Security Shield, a managed Cloud-based cybersecurity service targeted at Tenzing's ecommerce customers, powered by ZENEDGE's award-winning cybersecurity platform and managed service.
With the size, frequency, and sophistication of cyber attacks growing each quarter, there is increased risk for financial and reputation damage for ecommerce businesses. Tenzing and ZENEDGE have joined forces to address this need to secure ecommerce sites from malicious attacks, while minimizing impact on performance and conversion.
"ZENEDGE has combined cutting-edge cybersecurity with ease of implementation and monitored protection in a way that has not been done before," said Chris MacLean, VP of Technology at Tenzing. 'In ecommerce, where security and availability are paramount, the ZENEDGE solution provides a unique value proposition and delivers significant demonstrable value to our customers."
The collaboration between ZENEDGE and Tenzing delivers to ecommerce businesses what matters the most: protection and availability with virtually no impact on performance. Tenzing Security Shield - powered by ZENEDGE, is a comprehensive solution that is designed to protect ecommerce businesses against vulnerabilities, satisfy the PCI-DSS 3.1 requirement 6.6 through the included Web Application Firewall, and protect against volumetric and application-layer distributed denial of service (DDoS) attacks, while ensuring conversion thanks to accelerated application delivery capabilities built-in to the platform.
"Forward-thinking ecommerce hosting providers like Tenzing are working to ensure the best performance and best protection for their customers, leveraging the capabilities available to them in the market," said Yuri Frayman, CEO at ZENEDGE. "Tenzing's selection of ZENEDGE for this strategic partnership is further validation of our cybersecurity platform, our extensive set of features, and our unparalleled quality of service."
To learn more about ZENEDGE and its cybersecurity platform and services,http://www.zenedge.com. For information about Tenzing and its SaaS and ecommerce hosting solutions, visit http://www.tenzing.com
###
ABOUT Tenzing
Tenzing delivers solutions and services that enhance performance, maintain security and simplify compliance for retailers and manufacturers. By combining deep technical expertise with exceptional service delivery and support, Tenzing helps clients alleviate risk and maximize revenue from their digital investments. Tenzing deploys, manages and optimizes software and infrastructure for leading commerce platforms from partners such as Oracle, Hybris, Magento, and IBM. With offices and customers in the Americas, EMEA, and APAC, Tenzing is regularly recognized as a high-growth company and industry leader. Tenzing is ISO 27001 certified, AT101 SOC audits and a Level 1 compliant and audited PCI-DSS Service Provider. Tenzing also partners with Amazon for the global delivery of managed commerce services on AWS. For more information, visit: http://www.tenzing.com.
ABOUT ZENEDGE
ZENEDGE is a leading provider of Cloud-based cybersecurity solutions, specializing in Web Application Firewall (WAF) and DDoS mitigation for web applications, networks, and Domain Name Servers (DNS). ZENEDGE protects thousands of web properties and networks for customers in financial services, ecommerce, technology, media & entertainment, and government, with a global partner network in the United States, Canada, Europe, South America, and Asia. ZENEDGE is headquartered in Los Angeles, California. For more information, visit http://www.zenedge.com