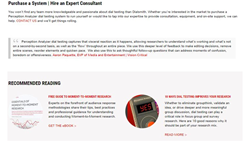 Portland, Oregon (PRWEB) September 10, 2015
Today, Dialsmith announced the launch of its new corporate website. The site features a host of new dial testing and in-the-moment market research resources and includes a newly remodeled blog with content created over the past decade from dial testing experts and market research insiders. The new website can be found at: http://www.dialsmith.com.
The website is aimed at providing relevant information about dial testing for marketers and communication and research consultants across various industries, including: media and entertainment, advertising, political and public policy, litigation, consumer packaged goods (CPG) and more. The new site provides easy access to free downloads of case studies, reports, on-demand webinars and eBooks and a regularly refreshed blog that is searchable by keyword, category or tags.
About Dialsmith
Dialsmith is a Portland, Oregon-based technology company that develops products and services for research, audience engagement and live event scoring. We are pioneers in the development of tools for capturing and displaying continuous and moment-to-moment feedback and are the worldwide marketers, sellers and service providers for Perception Analyzer®, Perception Analyzer Online®, ISX Scoring™ and Slidermetrix®. Featured on CNN, FOX News, Food Network, ESPN X Games, The New York Times and more, Dialsmith's Perception Analyzer tools are the gold standard for dial-based focus group testing, public opinion polling and audience engagement. To learn more, visit http://www.dialsmith.com.