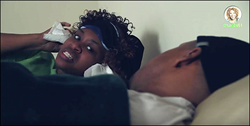 I met her at a private event in the backlot of the studio. I remembered GloZell had interviewed President Obama and thought she would be the perfect celebrity to help promote the Zyppah mission
Calabasas, California (PRWEB) September 10, 2015
Zyppah, Inc., the maker of the most effective hybrid solution for the treatment of snoring on the market today, is sponsoring a YouTube video produced by and starring internet sensation GloZell Green, the reigning Queen of YouTube. Zyppah's Director of Marketing. Adam Cohen, met GloZell at a special event with his family at Universal Studios Hollywood in Universal City, California. "I met her at a private event in the backlot of the studio. I remembered GloZell had interviewed President Obama and thought she would be the perfect celebrity to help promote the Zyppah mission," said Adam. He continues "We hit it off instantly." The following week, GloZell announced her snoring issue on social media. We responded to her with the "Snoring Challenge", which she subsequently accepted.
GloZell did not disappoint! The video is simply called "Snoring" and can be seen on Zyppah's Blog and on GloZell's YouTube Channel. Snoring was a real problem for GloZell and the reason she was so interested in the challenge. Her husband SK is a snorer. And like 90 million other Americans, his snoring had affected both their sleep and most probably, his health. The "Snoring" video documents what GloZell experienced before SK accepted the Zyppah Challenge. In the video, GloZell discusses her search for a solution by engaging with her audience on social media (Facebook, Twitter and Instagram.) To put this into perspective, GloZell is one of the most viewed comedic internet celebrities on YouTube with over 4 million fans (and just as many on her social media channels.) Most of her follower's responses showcased in the video were somewhat helpful; some were a bit ridiculous.
SK was put into the spotlight after GloZell accepted our challenge, (he rarely appears in front of the camera.) Once the Zyppah boil and bite mouthpiece was fitted (not seen on the video), he was able to get a restorative night's sleep without snoring. A win for both GloZell and SK and another happy customer for Zyppah.
GloZell made an extremely funny and entertaining video but admits snoring was no laughing matter for SK and her. Snoring affects millions of relationships, both physically and mentally. And did you know that sleep is the third pillar of health next to nutrition and exercise? Obesity, diabetes, sexual dysfunction, cardiovascular disease, memory loss, chronic fatigue, anxiety, depression and certain forms of cancer have all been linked to habitual snoring and a lack of sleep.
SK is taking back his health! He works out, eats right and is now getting a sound night's sleep thanks to Zyppah. But if you watch the video in its entirety, we find out that SK is not the only snorer in their bedroom. Because we know that GloZell snores, we are offering her our Pink Zyppah so she can get the same health benefits that SK is now getting (as well as helping her husband SK continue to get a great night's sleep.)