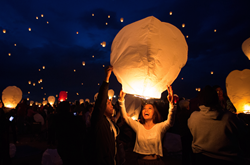 People will come from all over the state to celebrate a milestone, remember a loved one or just to snap some pictures for Instagram while marveling at this unforgettable scene
Albuquerque, NM (PRWEB) September 10, 2015
The sky will be painted gold when The Lantern Fest comes to Albuquerque. On November 14, thousands of participants will gather at Sandia Speedway to gaze upwards as Chinese lanterns fill the sky. This spectacular and often meaningful event promises to appeal to all ages.
"People will come from all over the state to celebrate a milestone, remember a loved one or just to snap some pictures for Instagram while marveling at this unforgettable scene," said Lantern Fest co-founder TR Gourley. "This unique experience will become a family tradition for years to come."
Individuals and families alike can settle in before sunset to decorate lanterns. Kids can get their faces painted while others roast marshmallows and enjoy live entertainment. After sundown, thousands of biodegradable lanterns will be set aloft. This family-friendly festival promises to be a highlight of the year.
"At the Lantern Fest we are committed to providing opportunities for families to get outside," said event director Spencer Humiston. "We are excited to bring this one-of-a-kind event to Albuquerque."
Lantern Passes can be purchased online and are required for admission to the event. Each pass comes with a lantern, marker, s'mores kit and lighter. All are welcome to join. Visit http://www.thelanternfest.com/events/albuquerque/ for more information about The Lantern Fest. Checkout what fans have to say on The Lantern Fest Facebook page at: http://www.facebook.com/thelanternfest
About The Lantern Fest
Historically Chinese Lanterns were used to symbolize good fortune, request favorable weather, or to celebrate the life of a loved one. But in 2014, The Lantern Fest transformed this ancient tradition into a family-friendly festival. There is food, music, s'mores, children's entertainment and when the sun goes down lanterns will light the sky in one spectacular release.