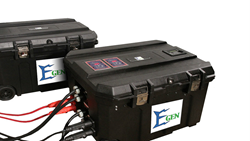 (PRWEB) September 10, 2015
The EGen Battery Bank was featured on NewsWatch as part of its monthly Tech Report, which features the latest and coolest technology products available to consumers. Amanda Forstrom, a technology expert and special reporter for NewsWatch, conducted the review and shared with viewers how this device enables homes to run off battery power.
Every homeowner or renter has to have electricity. There's just no way getting around it. But electricity bills can get very costly and seemingly impossible to reduce. Well, the EGen Battery Bank allows people to reduce their electricity bill while also reducing their carbon footprint.
Designed for homes and commercial sites, the Battery Bank allows people to run their house off of battery power during peak hours so they're not racking up the electricity bill. Then overnight they can switch back to the grid when electricity companies charge the least to use their power.
When the bank is charging at night, users can still be green and hook the device up to the EGen Energy Bike. If users bike for an hour and 15 minutes they can power the Battery Bank up enough to power an 1800 square foot house for an entire day. Pricing is customized for each home and starts around $12,000. But with it lasting 10 years with no maintenance needed, people willl be saving money and benefiting the environment.
To learn more, visit http://www.powerbyegen.com.
About NewsWatch
NewsWatch is a weekly 30-minute consumer oriented television show that airs on the Discovery Channel and ION Network. NewsWatch regularly features top technology products and services, mobile applications for iOS, Android, and Windows devices, unique and beautiful travel destinations around the world, health and medical tips, and entertainment interviews on the show. NewsWatch airs on the Discovery Channel at 7:00 – 7:30 AM ET/PT.
NewsWatch is located in the greater Washington, DC area and has been on air for over 25 years. For more information or to watch the most recent episode, visit http://newswatchtv.com/tech-report.html.