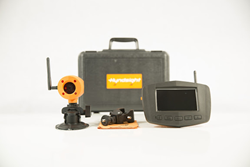 Peterborough, NH (PRWEB) September 11, 2015
Hyndsight Vision Systems has recently announced a new rear view camera and monitor system specifically designed for the rowing industry. Hyndsight's Cruz is a totally portable, wire-free rear view system that can be mounted within seconds on a rowing scull, providing real-time video as a way to maintain safety on the water. The wireless system is rugged, weather resistant and provides a video stream through a direct connection (camera to monitor), offering the rower a clear image that can transmit up to one-third of a mile with direct line of sight. With a sun-light readable screen, both the camera and monitor are submersible and buoyant and fit neatly, along with custom mountable accessories, into a rugged carrying case.
"As a serious amateur rower who rows for approximately three hours every day, the Hyndsight Cruz has made a tremendous difference with the safety factor," states Jim Ireland, Board member of the Viking Rowing Club in Ventnor, NJ. "Before using the camera and monitor system, I had several collisions and a couple of near misses. Because I row for long periods of time, I sometimes have a tendency to 'zone out' and the Hyndsight system keeps me focused and attentive. It gives me peace of mind and I would absolutely recommend the Cruz vision system to any serious rower. "
The Hyndsight Cruz has been approved by the Referee Committee of the USRowing organization for use in rowing competition. The USRowing organization is recognized by the US. Olympic Committee as the national governing body for the sport of rowing in the U.S.
Melissa Thompson, Hyndsight's CEO and an avid rower, developed the idea for the vision system after working for many years as a safety launch volunteer driver at the annual Head of the Charles Regattta in Cambridge, MA. "Rowing is the only sport where a competitor crosses the finish line going backwards," says Thompson. "It's easy for rowers to collide with other boats, capsize and need rescuing and medical attention. The Hyndsight vision system provides both professional and amateur rowers with a clear field of vision, much like a back-up camera for your car."
Founded in 2011, Hyndsight Vision Systems corporate offices and distribution center is located in Peterborough, NH. The company has secured world-wide distribution agreements with national and international companies and is currently developing an android version of the product and a version that will have added recording capability. The product is featured on Tractor Supply Company's online store and Amazon.