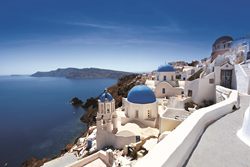 Seattle, WA (PRWEB) September 09, 2015
Windstar is making it even easier to sail through Europe with new savings up to 60 percent and the addition of two complimentary hotel nights – a fantastic way to begin and end a cruise. The "Sail and Stay" package is available on select 2016 sailings and also includes one complimentary transfer to or from the yacht, as well as transfer fees and gratuities associated with the hotel.
Windstar's European voyages also all feature a complimentary local Private Event onshore, immersing guests in the cultural and culinary delights of the region.
A sampling of "Sail & Stay" Voyages includes:

Greek Isles & Turkish Delights – a 7-day journey from Athens to Istanbul (and vice versa) including stops in Santorini, Mykonos, and Rhodes. From $2,999 per person.
Scandinavian Tapestry – an 11-day sailing from Edinburgh to Stockholm with stops in Oslo, Copenhagen, and Berlin. From $4,299 per person.
Enchanting Greece & the Amalfi Coast – a 7-day voyage from Athens to Rome including Capri, Giardini Naxos, and Gythion. From $2,599 per person.
Classic Italy & Dalmation Coast – an 8-day adventure from Rome to Venice including Croatia, Montenegro, and Capri. From $2,999 per person.
A complete list of Sail & Stay voyages is available here: http://www.windstarcruises.com/Specials/Eur-Sail-Stay-2016/
Offer expires December 11, 2015. Contact your travel professional, visit the website, or call Windstar Cruises at 800-258-7245.
About Windstar Cruises
Windstar Cruises operates a fleet of small luxury cruise ships known for its intimate yacht style experience and unique voyages to the world's best small ports and hidden harbors. Its three recently renovated sailing yachts carry just 148 to 310 guests and cruise to 50 nations, calling at 150 ports throughout Europe, the South Pacific, the Caribbean, and Central America. In May 2014, Windstar launched Star Pride, the first of three newly acquired power yachts. In May 2015 the company launched Star Breeze and Star Legend. The power yachts, with a capacity of 212 guests each, double the size of Windstar's fleet, making the company the market leader in small ship cruising with 300 or fewer passengers, with a total of 1,242 berths. In 2014 Windstar was named Condé Nast Traveler's World's Best Small Ship Cruise Line.
For more information including rates and itineraries, contact a travel professional or call Windstar at 800.258.7245, or visit http://www.windstarcruises.com.
###