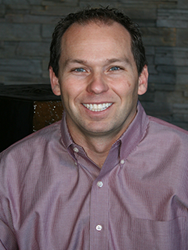 Durango, CO (PRWEB) September 09, 2015
People who have lost teeth and wish to address the problem during Self-Improvement Month, which is in September, can now visit Dr. Mason Miner to receive dental implants in Durango, CO. Dental implants, which are permanently placed in the alveolar bone, promise a high level of stability and functionality. Like dentures, bridges, and other tooth replacement options, dental implants offer an aesthetically appealing appearance, while simultaneously providing unique health benefits.
Dental implants offer unusual advantages because they are secured directly in the bone which holds natural teeth in place. Due to this placement, implants never damage surrounding teeth; instead, they help stabilize the positioning of these teeth. Implants also halt the bone density deterioration that typically follows tooth loss, since they stimulate the alveolar bone and signal regeneration at the cellular level. Other tooth replacement options, such as crowns or dentures, do not produce this beneficial effect. Since bone density loss is eliminated, people who receive dental implants in Durango, CO, do not need to be concerned about their implants requiring resizing or replacing. Implants are permanently secured, and according to the Mayo Clinic, offer a 98 percent success rate.
Dr. Miner provides various implant options to accommodate the needs of each patient. In addition to individual implants, Dr. Miner offers implant-supported dentures, which are secured in place with just a few implants. The implants can be strategically placed wherever a person's bone density is most sufficient, creating a solution especially suitable for patients with low bone density. Dr. Miner also performs bone grafting and sinus lifts to enable patients with limited bone density to receive dental implants.
Aside from offering various health benefits, dental implants produce numerous effects that help patients enjoy a better quality of life. Implants support a varied and healthy diet, allowing those who wear them to speak and smile with confidence. Given these benefits, implants make a logical choice for people who wish to improve their health, smiles, and self-esteem during Self-Improvement Month. To schedule consultations about receiving dental implants in Durango, CO, patients are encouraged to call Dr. Miner's office or visit his website.
About the Doctor
Dr. Mason Miner is a general dentist offering personalized dental care for the entire family, in Durango, CO. Dr. Miner is a graduate of Marquette University School of Dentistry in Milwaukee, Wisconsin. Beyond that, he also completed training in Advanced Education in General Dentistry at the University of Missouri, Kansas City. Dr. Miner focused his studies on the surgical placement and restoration of dental implants, which he offers as a service at his practice. Dr. Miner is a member of the American Academy of Facial Esthetics, American Dental Association, the Colorado Dental Association and the San Juan Basin Dental Society. To learn more about the services offered by Dr. Miner, please visit his website at http://www.masonminerdds.com or call (970) 306-0535 to schedule an appointment.