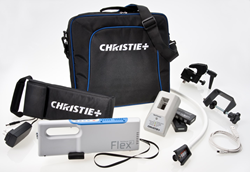 the small size, brightness, and portability of VeinViewer Flex make it well suited for EMS and MIH-CP programs
Las Vegas, Nevada (PRWEB) September 10, 2015
Christie Medical Holdings, Inc., the global leader in vein finder technology, will exhibit its ultra-portable VeinViewer® Flex at the annual EMS World Expo September 15-19, in booth #230, at the Las Vegas Convention Center. The conference offers education and learning to EMS personnel and is the largest EMS, EMT and Paramedic event in North America.
VeinViewer Flex helps visualize peripheral vasculature for IV catheter placement utilizing harmless, near-infrared light. It is proven to improve peripheral IV first stick success by up to 100%. Ultra-portable and compact, VeinViewer Flex is the first choice for first responders when time to IV access matters in stabilizing critical patients. With its Class B EMS rating, VeinViewer Flex is cleared for use in patients' homes and in a wide range of healthcare facilities. HD imaging and Df2 (Digital Full Field) technology provide VeinViewer Flex with the brightest and most accurate peripheral vein image for assessment pre-, during and post-vascular access procedure.
"EMS personnel need to assess a patient's situation and act quickly," said George Pinho, president, Christie Medical Holdings, Inc. "Whether in the field or Emergency Department, the small size, brightness, and portability of VeinViewer Flex make it well suited for EMS and MIH-CP programs."
VeinViewer Flex helps visualize vasculature in difficult access patients including those with obesity, edema, dark skin and other issues. It provides a real-time, accurate image of the patient's peripheral blood pattern. Its patented technology allows clinicians and EMS personnel to see blood patterns in veins up to 15 mm deep and clinically relevant veins up to 10mm deep. Clinicians can also see peripheral veins, bifurcations, valves and can assess the refill rate of veins in real time.
To learn more about Christie vein finding devices including VeinViewer Flex, VeinViewer Vision and VeinViewer Vision2, please visit http://www.christiemed.com. 2 of 2 ©2015 Christie Medical Holdings, Inc.
​About Christie Medical Holdings, Inc.
Christie Medical Holdings Inc. is a global company based in Memphis, Tenn., that discovers, develops and commercializes medical technologies. The company's market-leading product, VeinViewer, is manufactured in the USA. It is a mobile vascular imaging system that allows health care providers to clearly see accessible vasculature as a real time HD image, directly on the surface of the skin. Christie Medical Holdings Inc. is owned by Christie Digital Systems Inc., a global visual technologies company and a subsidiary of Ushio Inc., Japan (JP:6925). For more information on Christie Digital Systems or Christie Medical Holdings, visit http://www.christiemed.com.
Follow us on Twitter @christiemed, @veinviewer
Christie® is a trademark of Christie Digital Systems USA, Inc., registered in the United States of America and certain other countries.
DLP® is a registered trademark of Texas Instruments.​