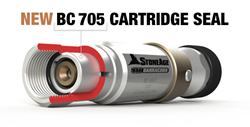 Effectively doubles the operating life of these powerful shotgun tools from 40 to 80 hours
Durango, CO (PRWEB) September 16, 2015
Surface preparation is a major application of industrial cleaning, whereby highly pressurized water jets are directed at a surface in order to remove material such as paint, enamel, rust, deposits and contaminants. Barracuda rotary shotgun tools produce powerful jets that spin around a central axis for greater surface coverage and material removal.
Waterblasting at pressures up to 44,000 psi (3000 bar) is demanding work for shotgun operators bearing sustained backward thrust up to 70 lbs and is typically done in short intervals. For this reason, tools are made to withstand repeated cycles of usage at extremely high pressures and harsh industrial environments. The primary wear items on these tools are the high pressure seals and seats that ensure proper pressurization and performance. Tools are typically taken out of operation for seal replacement at maintenance intervals ranging 30-40 hours.
The new BC 705 high pressure seal design effectively doubles the operating life of these powerful shotgun tools from 40 to 80 hours under normal operating conditions. StoneAge engineered the new seal to retrofit with existing tools and is making the cartridge available as a drop-in replacement for all Barracuda tools rated to 44,000 psi.
"StoneAge takes pride in engineering high quality tools that deliver value to the industry," stated Kerry Siggins, CEO. The push for further refinement of the Barracuda seals is part of the company's commitment to deliver innovative tools that increase productivity and lower operating costs for hydroblast professionals.
"The BC 705 seal prevents the possibility of early erosion," explained Rick Doornbos, designer of the new seal technology. "Less time is spent maintaining the tool, and overall run time increases for operators – that's where the value is added in the tool."
About StoneAge
StoneAge, Inc. is a leading manufacturer of high-pressure waterblast tools and automated equipment for industrial companies and contractors worldwide. For more information and tool specifications, visit http://www.stoneagetools.com or call 1-970-259-2869.