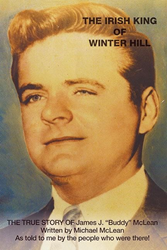 "I have read all the books and the information on the Internet about my father, and most of it is wrong. After talking to his closest friends, I decided I would set the record straight." - Author Michael McLean
(PRWEB) September 10, 2015
The new crime film "Black Mass," set to open Sept. 18, was filmed in Boston and is based on the 2001 book "Black Mass: The True Story of an Unholy Alliance Between the FBI and the Irish Mob" by Dick Lehr and Gerard O'Neill. But there's another new book about this significant period in Boston's criminal past, one written by the son of a key player.
Author Michael McLean's father was "Buddy" McLean, a truck driver who was the leader of the infamous Winter Hill Gang until his murder in 1965. Irish mob boss James J. "Whitey" Bulger took over the gang in 1979, becoming one of the most notorious mobsters in American History. He was also an FBI informant for 30 years. The Winter Hill Gang's core membership was mainly Irish-American and Italian-American, deriving its name from the Winter Hill neighborhood of Somerville, Massachusetts, north of Boston.
There have been many books about the mob, but every now and then, a true story appears and becomes a hit. This is the case with McLean's true story: "The Irish King Of Winter Hill: The True Story of James J. 'Buddy' McLean." Readers get the real scoop on this explosive period of Boston's history, when gangsters ruled the docks and streets erupted into gang wars.
Michael McLean was tired of reading erroneous information published about his father. He decided to set the record straight, in this book where truth is more dynamic than fiction.
"We love publishing quality and timely books like this. Sales are very strong and we look forward to more success with our author Mr. McLean." – Robert Fletcher, CEO of Strategic Book Publishing and Rights Agency
The author stated, "I have read all the books and the information on the Internet about my father, and most of it is wrong. After talking to his closest friends, I decided I would set the record straight."
About the Author: Michael McLean grew up in Somerville, Massachusetts, where most of this book takes place. He now lives in South Boston. The first-time author works on the docks using his father's union card, which has been handed down for three generations.
The Irish King of Winter Hill : The True Story of James J. "Buddy" McLean (Kindle ISBN 978-1-62857-535-4, ePub ISBN: 978-1-62857-536-1) is available for $9.99 at http://epubco.com/shop/products/the-irish-king-of-winter-hill-the-true-story-of-james-j-buddy-mclean-by-michael-mclean/# or at Amazon.com or Barnesandnoble.com.
The soft cover (ISBN: 978-1-62516-669-2, $16) can also be ordered through the publisher's website: http://sbprabooks.com/MichaelMcLean or at Amazon.com or Barnesandnoble.com.
Wholesalers: This book is distributed by Ingram Books and other wholesale distributors. Contact your representative with the ISBN for purchase. Wholesale purchase for retailers, universities, libraries, and other organizations is also available through the publisher; please email bookorder@aeg-online-store.com.