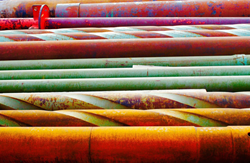 (PRWEB) September 11, 2015
Reno, Nevada, USA: The Geothermal Resources Council (GRC) is pleased to announce the winners of this year's Amateur Geothermal Photo Contest. The purpose of the contest is to showcase quality photography featuring geothermal energy around the world.
1st Place:
Drill Casings for New Geothermal Well
by Cari Covell, Reykjavik University - Iceland School of Energy, Reykjavik, Iceland
https://farm6.staticflickr.com/5797/20765661375_beb4bafebc_z.jpg
2nd Place:
Geothermal Mist
by Paweł Krok, Lubawka, Poland
3rd Place:
Champaign Pool Divide
by Ning Tai (aka Nelly Alison), Albert Park, Victoria, Australia
Honorable Mention:
Sunset at Alaşehir 2
by Tim Dunford, Hailey, Idaho, USA
Honorable Mention:
Cold Faithful
by Greg Rhodes, Reno, Nevada, USA
All the entries can be seen on the GRC Flicker website at http://www.flickr.com/photos/geothermalresourcescouncil/ and will be showcased at the GRC Annual Meeting & GEA Geothermal Energy Expo being held at the Peppermill Resort Spa Casino, Reno, Nevada, USA from September 20 –23.
The winners will be presented with prizes at the GRC Annual Member Meeting and Awards Luncheon, the climax to the GRC Annual Meeting. The theme for this year's meeting is Geothermal: Always On.
For more information about the GRC Annual Meeting, visit http://www.geothermal.org or call (530) 758-2360.
###
About the Geothermal Resources Council:
With the experience and dedication of its diverse, international membership bolstering a more than 40-year track record, the Geothermal Resources Council has built a solid reputation as one of the world's preeminent geothermal associations. The GRC serves as a focal point for continuing professional development for its members through its outreach, information transfer and education services.
For more information, please visit http://www.geothermal.org.
Get your daily geothermal news at Global Geothermal News [globalgeothermalnews.com]. Become a fan on Facebook [ facebook.com/GeothermalResourcesCouncil]. Follow GRC on Twitter [#GRCAM2015 & @GRC2001]. Check out GRC's YouTube Channel [ youtube.com/GeothermalCouncil]. See geothermal photos on GRC's Flicker page. [ flickr.com/photos/geothermalresourcescouncil]
###