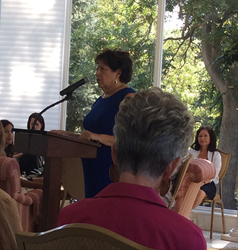 Let us harvest your thoughts today on workforce development – and the role Emily Griffith Technical College can play in continuing to provide students a chance for success, providing the tools to build a career, to follow a dream, to sustain a pas
Denver, CO (PRWEB) September 09, 2015
On September 9, 1916, The Opportunity School opened for 1,400 students. Today, 99 years and almost 2 million students later, Emily Griffith Foundation (EGF) and Emily Griffith Technical College (EGTC) announce their plans to celebrate "100 Years of Opportunity" through events and activities that highlight the past, present and future of workforce education, as well as the pivotal role Emily Griffith, and her school, have played. The first of these took place today at the Governor's Mansion.
EGF, in partnership with The Denver Foundation, The Women's Foundation of Colorado and 100 Years of Opportunity chair Susan Keily, hosted "99 Women for Opportunity." The event paid homage to Emily Griffith's gatherings at what was then the Cheeseman Mansion to garner support for her vision to provide a school free of charge for all who wished to learn. Katherine Archuleta provided the keynote address today before the invitees got to work discuss the current status of workforce education, challenges faced in the pursuit of education and the continuing role of workforce education on strengthening the middle class. The resulting white paper will be delivered to Governor Hickenlooper and posted on http://www.egfoundation.org in coming weeks.
This event was the first of several events and activities:
Alumni Rally Driven by Schomp Automotive seeks to identify and celebrate all alumni – students, faculty and staff – through group functions at local sports, entertainment and cultural activities. These events begin December 4, 2015. More details and an opportunity to register are available at http://www.egfoundation.org/alumni.
Party of the Century is not to be missed. To celebrate Emily Griffith's birthday, this speakeasy-themed party will take place at the History Colorado Museum on February 12, 2016. It includes a full evening of entertainment.
The Legacy of Learning breakfast honors an individual and a company that have demonstrated a lifelong commitment to learning. This will take place June 8, 2016.
The For All Who Wish to Learn Exhibit celebrates the entire history of Emily Griffith Technical College through an interactive display at the Denver Public Library from August 1 through December 31, 2016.
Touching Tomorrow looks to the future of workforce education, convening college presidents, business leaders and students. The event will take place November 11 and 12, 2016.
More information on all of these events including how to can get involved can be found at http://www.egfoundation.org.
About Emily Griffith Technical College
Emily Griffith Technical College is the post-secondary arm of Denver Public Schools. Its mission is to provide knowledge, skills and values that enable students to compete successfully in the workforce and to be self-sufficient citizens and lifelong learners. The college offers more than 50 training certificates and 13 trade apprenticeships. Since 1916, EGTC has assisted nearly 2 million students attain the necessary skills for initial employment and career advancement. For more information, visit EmilyGriffith.edu.