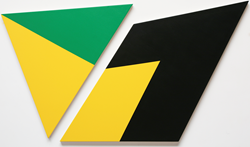 Santa Fe, NM (PRWEB) September 10, 2015
David Richard Gallery presents the third in the series of exhibitions commemorating the 50th anniversary of "The Responsive Eye". This particular presentation focuses on contemporary explorations of visual perception and features artwork by both earlier pioneers of Op Art and younger contemporary artists who have been reconsidering our understanding of visual perception. "Re-Op: 'The Responsive Eye' Fifty Years After", curated by critic, curator, and historian Peter Frank and gallerist, curator and historian David Eichholtz, will be on view October 2 through November 21, 2015. There will be an opening reception with artists Matthew Kluber and Jack Slentz and the curators on Friday, October 2, from 5:00 to 7:00 PM, and a gallery discussion with the curators and artists on Saturday, October 3, from 2:00 to 3:00 PM. The gallery is located at 544 South Guadalupe Street, Santa Fe, New Mexico 87501, phone 505-983-9555 in the Santa Fe Railyard Arts District.
"Re-Op: 'The Responsive Eye' Fifty Years After" is the third installment of a critical series of presentations that has been reexamining the seminal exhibition organized by William C. Seitz in winter-spring 1965 at New York's Museum of Modern Art. "Re-Op" presents contemporary artworks from many of the American artists who were included in the MoMA exhibition, including: Richard Anuszkiewicz, Karl Benjamin, Francis Celentano, John Goodyear, Ed Mieczkowski, Oli Sihvonen, Julian Stanczak and Tadasky. The artworks presented here were produced well after the Op Art craze and later in the careers of these artists, between 1983 and 2014. More importantly, these works demonstrate how these visionary artists maintained the rigor and discipline they brought to understanding visual perception by creating the illusion of three-dimensional space and motion using mostly line and color.
Presented alongside the original participants of "The Responsive Eye" are a large number of contemporary artists not included in that seminal exhibition, but inspired by it and its alumni mentioned above. Several were peers of the original participants; others were on the cusp but still finding their way. Even more interesting is the large number of young artists included in "Re-Op" who continue to comprehend and push the boundaries of visual perception with their use of new materials, processes, and supports. These range from aluminum, steel, reflective sign materials, and plastics to mosaics, collage, pattern, digital data, projections, the use of templates and stencils, as well as squeegeed and airbrushed paint. Some of the artworks are imbued with conceptual content that delivers not only an aesthetic punch, but also social and cultural messages, pushing the application of line and color to its limits. Participants from across the country include Peter Demos, Gabriele Evertz, Beverly Fishman, Christian Haub, Matthew Kluber, Tom Martinelli, Ruth Pastine, Paul Reed, Richard Roth, Jack Slentz, Robert Swain, Leo Valledor, Stephen Westfall, Sanford Wurmfeld, Mario Yrisarry and Eric Zammitt.
Since its inception, David Richard Gallery has produced museum quality exhibitions featuring Post-War abstraction in the US. The presentations have addressed specific decades and geographies as well as certain movements and tendencies, including Color Field, geometric and hard-edge abstraction, Op Art, Pop Art, Minimalism, Feminism, and Conceptualism in a variety of media. While the gallery has been recognized as a proponent of important historical abstraction from the 1960s through the 80s, as a contemporary art gallery it also exhibits younger generations of abstractionists who explore alternative media and supports and push the boundaries of expression. In keeping with this spirit of nurture and development the gallery also presents established and emerging artists who embrace more gestural and representational approaches to the making of art.