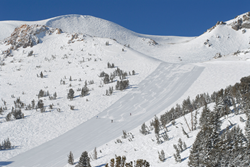 Mammoth Lakes, CA (PRWEB) September 10, 2015
Mammoth Lakes continues to evolve as a world-class winter destination with the new Holiday Haus Hostel, electric snow tubing and an updated flight schedule from Denver International Airport highlighting a number of changes that will greet visitors during the 2015-16 winter season.
Benefiting from its uniquely high elevation, Mammoth Mountain's ski/ snowboard season is the longest in California and is slated to start this year on Veterans Day (Wednesday, Nov. 11). With 7 months of snow the norm, there's plenty of time to eat, drink, and experience everything that Mammoth Lakes has to offer, including new:
Breweries

Mammoth Brewing Renovations/ Expansion - Apres favorite Mammoth Brewing Company continues to expand its new village tasting room, opening a new upstairs seating area that will expand capacity and allow for private group events. The space will also host live music.
Lodging

Holiday Haus Hostel - The New Holiday Haus Hostel offers budget-minded travelers a new lodging option in Mammoth Lakes. The comfortable and modern rooms, kitchen and common areas are located right on Main Street, walking distance from the Village Gondola and the restaurants, bars and nightlife that surround it.
Restaurants

53 Kitchen and Cocktails - Mammoth's newest eatery in the heart of the Village, is an all day affair. Fuel up for a day in the mountains with a good breakfast, and cap it off it with an artisanal cocktail and a selection from a diverse dinner menu. The stage and expansive dance floor also make 53 the destination for live music and entertainment well into the evening
Skadi - When Restaurant Skadi chef Ian Algeroen closed the doors two years ago and the space was taken over by a new restaurant, locals thought Skadi was gone for good. "Back by popular demand" is an overused cliche but it certainly applies here. After spending the intervening years hearing from Mammoth Lakes' locals about how much they miss the eatery, Chef Ian has reopened the doors on Skadi and a concept that's as timeless as the mountains from which it draws inspiration. Now located on Berner St. near the Village, Skadi is back and offering authentic high alpine cuisine endemic to the alps.
Activities

Electric Tubing at Woolly's Tube Park - You can leave your old-school toboggan at home. Woolly, Mammoth's tusked mascot, has you covered. On five nights throughout the season, Woolly's tube park will transform into an electric circus in the forest. With DJ's, drinks (adult and otherwise) food, glow sticks, laser lighting and of course, snow tubing.
Tamarack Full Moon Tours - Every full moon this winter (and the evenings immediately before and after) naturalist-led tours of the wilderness surrounding Mammoth Lakes will take on a whole different feel. The snow on the trails and surrounding mountains soaks up the moon's glow, allowing for comfortable visibility and an unforgettable experience. Guests can cross-country ski or snowshoe the two hour tour, which finishes with drinks and smores around the iconic fireplace at the Tamarack Lodge.
Bleu Wine & Tasting Bar - Located inside Bleu Handcrafted Foods, the Tasting Bar is a customizable tour of cured meats, artisanal cheeses and the beer and wines that best complement them. Served atop Bleu's custom Charcuterie hanger, it's an excellent apres experience, particularly for groups. The culinary tour is curated by Bleu's knowledgeable staff and updated regularly. Reservations are recommended.
Events - Ezakimak: On April 23, 2016, test your limits with the ultimate winter adventure challenge. Race from the base of Mammoth Mountain to 11,053 ft on cross country skis, snowshoes, by foot or fatbike! The Ezakimak brings participants from 9,000 ft to over 11,000 ft in a winter trial featuring both competitive and novice classes
Access

Flights - Following a limited trial run last winter, Mammoth Lakes will enjoy regular, weekly flight service to and from Denver International Airport on United Airlines. The expanded flight schedule makes getting to and from Mammoth Lakes much easier and faster. Flights are scheduled to begin December 19, running Saturdays through March 19. Continued seasonal service from San Diego, San Francisco and Los Angeles will return this winter as well.
Check http://www.visitmammoth.com/ for more information and to get started booking a Mammoth Lakes vacation.