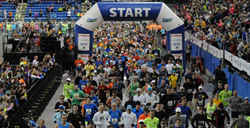 From the best technology in the industry to a simple phone call from the Events.com team checking in, partnering with Events.com is a no-brainer!" -Mark Knutson, Race Director for Fargo Marathon
SAN DIEGO, CA (PRWEB) September 10, 2015
Registration for the 2016 Fargo Marathon opened on Monday, September 1. For the first time in race history, the Fargo Marathon will register runners through Events.com, an event management platform that facilitates and enhances the experience of hosting and attending events.
Starting from inside the Fargodome, surrounded by 15,000 cheering fans and spectators, the marathoners will take off on the fast, flat and friendly course. Over 40 bands and DJ's will line the course.
"Opening up registration with Events.com was an easy choice for us. The road racing business is about relationships, and Events.com lives that out every day," said Mark Knutson, Race Director for Fargo Marathon. "From the best technology in the industry to a simple phone call from the Events.com team checking in, partnering with Events.com is a no-brainer!"
"The Events.com software combines powerful tools with intuitive design to make it easy-to-use for both the event organizer and event goer," said Mike Reilly, EVP Sales at Events.com. "We are so pleased to be working with Mark and his team and we are looking forward to a long relationship."
The Fargo Marathon will be sanctioned by USA Track & Field and the course will be certified, making it a true Boston Marathon qualifier. Online registration will close on May 15, 2016 at 12:01AM. Registration for the marathon, half marathon and 10K will be capped at 2,500, 7,500 and 5,000, respectively. From the Largest Kid's Race, 5K Walk/Run, 10K, Half Marathon, Full Marathon and Relays, there is a distance for everyone. Fargo Marathon is part of the Fargo Marathon Events, and is managed by Go Far Events, a sports management company. The 12th Fargo Marathon will be held on Saturday, May 21, 2015.
To register for the Fargo Marathon, visit FargoMarathon.com.
ABOUT FARGO MARATHON EVENTS
Fargo Marathon, Inc. is a 501 (c) (3) organization dedicated to the promotion of physical fitness and mental well-being. A portion of the monies raised by this organization are donated back to charities focused on youth related causes. Since its inception, Fargo Marathon, Inc. has given over $500,000 to a variety of charitable efforts throughout the region. In addition, since 2012, the Fargo Marathon's Shoes for Kids program has purchased over 4,000 pairs of Nike shoes and donated them to needy children in the community's Elementary Schools.
ABOUT EVENTS.COM
Events.com is a leading online marketplace uniting event organizers and event participants in a single place. Its cloud-based application bridges the gap between event organizers and event goers, giving the event ecosystem an improved solution to planning and finding events. Events.com has over 75 employees with headquarters in San Diego and an office in Ottawa, Canada. To learn more about Events.com, please visit http://www.events.com.
Media Contact:
Sarah Pease or Lori Sussle Bonanni
Events.com
858.257.2300 x280
press(at)events(dot)com
###