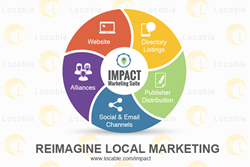 IMPACT is more than just the idea of "Shop Local," it's a fresh spin on living locally - a collaborative effort.
FOLSOM, CA (PRWEB) September 16, 2015
The team at Locable has just launched its "Reimagine Local Marketing" campaign on Indiegogo.com to develop its IMPACT Marketing Suite software and educate local businesses across the nation on small business marketing.
Since 2009, Locable has partnered with more than 80 local publishers across the US to build community online. Yet the introduction of IMPACT is set to take this relationship to a whole new level.
IMPACT is the first software of its kind to connect local businesses, legacy publishers and organizations to their communities and fuel local economy growth. Learn more about the campaign: http://bit.ly/1UC1LSO.
"Community publishers are uniquely positioned to become the anchor tenant of their community," says Brian Ostrovsky, Founder and CEO of Locable, "to help businesses and readers to join the conversation online."
It's about more than just the idea of "Shop Local," it's a fresh spin on living locally - a collaborative effort.
The campaign will fund outreach and educational resources for local businesses, chambers, and associations in cities and towns across the United States. Special perks of the campaign include: a stop on the tour anywhere in America to provide a local marketing fundamentals workshop, lifetime access to the IMPACT Marketing Suite, and specialized workbook and training courses to walk local businesses through the complicated digital landscape. http://bit.ly/1UC1LSO
With IMPACT, Locable has created software that takes the power of real-world relationships, such as referrals, Chamber affiliations, event sponsorships and other alliances, that so many local businesses rely on, and applies it online; along with the many other necessary actions for building a great online presence:

Distribute events & core business data to a network of local publishers
Quickly build a mobile- and search-optimized website
Easily create and manage engaging content
Collect feedback & solicit customer reviews
IMPACT is designed to revolutionize local marketing by helping connect businesses with other organizations and local publishers in a novel way. More features are currently under development and perks have a planned delivery of January 2016.
About Locable: Locable was founded on small town values and a lofty objective: revolutionize local marketing by creating affordable software that reconnects business with the community, enriches relationships and makes each town a better place to live.
Indiegogo Campaign - http://bit.ly/1UC1LSO
Additional Press Information - http://bit.ly/1iepCH9