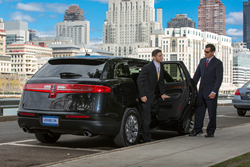 More than a quarter (27 percent) of business travelers fail to buckle up in taxis and limousines, while more than half of those traveling internationally, refrain from drinking the local water.
New York, NY (PRWEB) September 10, 2015
As business travelers head back to the skies this fall, GroundLink®, a leading tech-enabled black car service, has surveyed more than 300 frequent business travelers on their concerns about health and safety while on the road.
Forty percent of business travelers surveyed said they have become ill while traveling and almost all of those (99 percent) have become ill one to three times in the past year. Less than one percent of business travelers have become ill more than five times in the past year. The greatest fear of travelers is flight delays and cancellations (35 percent), which outpaced the fear of getting sick while away from home (19 percent). The next greatest fear was being in an airplane accident or a crash (16 percent) followed by being a victim of a crime (12 percent). Only six percent surveyed said terrorism was their greatest fear followed by being far away from family and friends (three percent) and having trouble sleeping (two percent).
When asked to rank the most likely places to come in contact with germs while traveling, the number one ranking place was airplane cabins followed in order by public transportation, airplane bathrooms, airport bathrooms, hotel TV remotes and taxis. The least likely were hotel linens/bed coverings and limousines and car services.
According to 69 percent of those surveyed, the most likely culprit of ruining a business trip is bad food or a stomach bug. This far outpaced the next likely business trip malady; the common cold or flu, which only 16 percent said would ruin their trip. Slipping or falling (nine percent) and insect bites (three percent) rounded out the responses.
The three travel diseases that those surveyed believed posed the greatest threat to travelers are Middle East Respiratory Syndrome (MERS), EBOLA and Legionnaires Disease, each coming in at 20 percent each. This was followed by Malaria (13 percent) and Avian (Bird) Flu at eight percent. The region seen as the one posing the greatest health risk is Africa (60 percent) followed by the Middle East (13 percent), Asia (14 percent) and Central America (five percent).
When it comes to taking safety and health precautions while on the road, more than a quarter (27 percent) fail to buckle up in taxis and limousines. However more than half (51 percent) of those traveling internationally, refrain from drinking the local water and a third (33 percent) stay out of dangerous neighborhoods to keep safe. Only eight percent don't travel alone and five percent pass on eating local street food.
About GroundLink
GroundLink is a tech-enabled black car service provider offering point to point, hourly and airport transfer service for frequent and business travelers. Operating in every major city worldwide, GroundLink delivers a high quality and safe ride with its network of professional and licensed drivers, all while offering exceptional customer service and the industry's only on-time guarantee. Customers can book GroundLink rides online at https://www.groundlink.com, through the GroundLink Car & Limo Service iPhone and Android app, and its 24/7 call center (855.463.7150). GroundLink has offices in North America and Europe, with its headquarters in New York, NY. Connect with GroundLink on Twitter @GroundLink and on Facebook.com/GroundLink.
# # #