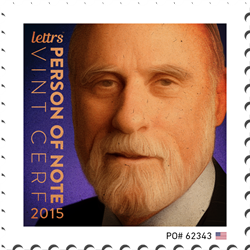 "Rather than sounding the death knell for meaningful written correspondence, Internet technology has the power to enhance it," - Co-Creator of the Internet Vint Cerf
New York, NY (PRWEB) September 10, 2015
Vint Cerf, a father of the Internet and Google executive, has reached out to the world on the multi-language messaging network lettrs®, inviting correspondence on the impact of the Internet and how it will continue to change our world.
Cerf is reaching out now because as he writes in his letter, "We are incredibly at the midway point in the second decade of the 21st century," and it's time to take stock of where we've been and where we are heading. He voices particular concern about the impact of technology on education and preservation of content, and the future of the Internet of Things.
In his mobile letter, Cerf calls on his correspondents to imagine possible uses of the Internet in the next several decades. "How will the Internet evolve?" he asks. "What new technologies will come along to enhance, improve or even replace this vital infrastructure? How will the Internet or its successor(s) be used? How will new Internet uses change our social and economic environment?"
Recognizing the importance of letters in preserving history, Cerf urges people to think of technology not as signaling the end of letter writing, but as offering a new and better way to create deliberate words.
"Rather than sounding the death knell for meaningful written correspondence, Internet technology has the power to enhance it," Cerf says in his letter. "I am writing to you on lettrs because this messaging network bridges 20th and 21st century communications. It extends the time-honored tradition of thoughtful letter writing to today's digital, mobile society and elevates the art with visual and social-sharing dimensions."
Anyone in the world can write to Cerf using the lettrs messaging app. Cerf will feature the responses he considers most insightful on his public "fridge" on lettrs. Before year-end, he will write a second letter to the world on lettrs, synthesizing the ideas he has received.
Cerf's selection of the "best letters" will be featured on the lettrs app and at Silicon Valley Comic Con. Cerf and lettrs will be participating in the event, scheduled for March 19-20 in San Jose, Calif.
"The world would be a very different place if it weren't for Vint Cerf and Robert Kahn, who had the genius to develop the basic communication language of the Internet," says Drew Bartkiewicz, CEO and co-founder of lettrs. "We are honored that Cerf is reaching out to the world on lettrs, as we strive to recreate letters for today's digital and highly mobile world."
Cerf, who serves on the lettrs advisory board, is being honored in a special series of lettrs Internet Pioneers SocialStamps. This new collection recognizes early Internet and other technology leaders and distributes their stories across the growing lettrs network, already generating over 3 billion impressions in the last 12 months.
Other trailblazers being honored on Internet Pioneers stamps include Apple co-founder and former CEO Steve Jobs, Apple Co-Founder Steve Wozniak and inventor Robert Kahn. The smart stamps – all powered by unique content and data – can be affixed to mobile letters written on lettrs and distributed on major social networks.
"As the Internet changes the world, the world changes with the Internet," Bartkiewicz says. "And so we decided to take lettrs to where the people are – on their mobile devices, each of which carries its own shoebox in the cloud for letters meant to last. The SocialStamps of these pioneers will help power new lettrs experiences of the future."
About lettrs™
lettrs is a powerful social messaging and media platform that allows more personalized expression using letter-writing elements, such as calligraphy, stationery, stamps and signatures. With more than 2 million downloads of the mobile application and over 3 billion impressions on the lettrs network, users from 170 countries communicate in 80 languages. lettrs offers a global mobile network to help consumers, brands and nonprofit organizations share thoughtful, personalized, original messages designed to last. The network carries digital fan mail that fuses people, pictures, prose and personality. lettrs was selected as a Google Play Best Android App of 2014.