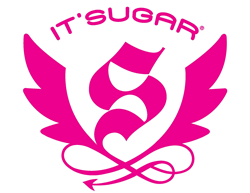 Deerfield, FL (PRWEB) September 10, 2015
Back to school treats have never looked so sweet! America's most beloved breakfast items are taking on a new form at the country's favorite sugar hotspot, IT'SUGAR, just in time for start of the school year. Being the favorite mom on the block never looked so easy with these yummy breakfast sweets. New edible and novelty items from Kellogg's Fruit Loops, Frosted Flakes, Pop Tarts and Rice Krispie Treats will be available in all of IT'SUGAR's over 75 stores around the country.
"Who doesn't love a sweet treat at breakfast every once and a while?" says Jeff Rubin, CEO and Founder of IT'SUGAR. "So many of us have grown up with these brands. They are iconic and delicious and bring a dose of fun to every table."
For the first time ever Pop Tarts will be available in an assortment of flavors within one box. Both Pop Tarts Breakfast Lovers (Strawberry, Cinnamon Roll and Brown Sugar Cinnamon) and Dessert Lovers (Red Velvet, Chocolate Strawberry and Confetti Cupcake) gift boxes can only be found at IT'SUGAR. For the special lunch box surprise, IT'SUGAR will also carry Rice Krispies Treats Mini Squares gift box. Iconic Kellogg's characters like the Frosted Flakes tiger and Fruit Loops toucan will be featured on drink ware and apparel, and Pop Tarts wild berry, hot fudge sundae and confetti cupcake flavors will be infused into lip balms.
The gift boxes, drinkware, lip balms, t-shirts and socks will hit IT'SUGAR's over 75 stores nationwide September 9th through the end of the year.
About IT'SUGAR
Founded by Jeff Rubin in 2006, this saccharine experience has become one of the largest and fastest growing specialty candy and gift retailers in the world. The IT'SUGAR Empire consists of over 75 retail locations in US hotspots such as New York, Las Vegas, Los Angeles, San Francisco, Miami, Scottsdale, San Diego and Palm Beach, in addition to chic international destinations such as London, Panama, and Grand Cayman. With aggressive growth plans, IT'SUGAR sees a future where everyone has access to the pure joy that comes from indulging in a movement where life doesn't have rules – the IT'SUGAR movement.