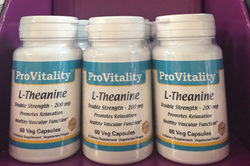 What makes ProVitality L-Theanine unique is the powerful combination of high quality L-Theanine and Inositol. As a result, ProVitality L-Theanine can yield many therapeutic benefits throughout the body
Orland Park, Illinois (PRWEB) September 10, 2015
"What makes ProVitality L-Theanine unique is the powerful combination of high quality L-Theanine and Inositol. As a result, ProVitality L-Theanine can yield many therapeutic benefits throughout the body," began Diana Sourek, MS, CNC, Certified Gluten Practitioner and manager, New Vitality Health Foods, Inc. "New Vitality Health Foods, Inc. will be celebrating our 27th year in business this month. Since we first opened our doors, we focus on providing our customers with high quality products. The superior quality of ProVitality L-Theanine demonstrates that our focus on incorporating new ways that can positivity impact our customers remains steadfast to our mission."
What is L-Theanine and Inositol?
L-Theanine is an amino acid and constitute of green tea leaves. It is known to block the binding of L-Glutamic acid to glutamate receptors in the brain. Inositol is a member of the vitamin B complex and is often referred to as vitamin B8. Inositol is actually a naturally occurring glucose isomer.
Ms. Sourek Outlines The Health Benefits of L-Theanine
1. Reduce The Harmful Effects Of Stress: L-Theanine studies suggest that it can influence psychological and physiological states under stress. The studies demonstrated that when taking L-Theanine, a reduction in the heart rate resulted and salivary immunoglobulin A (s-IgA) responses to an acute stress task were reduced. L-Theanine was also shown to help the body respond to stress since L-Theanine helps to activate the sympathetic nervous system. (1)
2. Relaxation, rejuvenation, and focus: L-Theanine's effect on the brain can be visualized on an EEG. Brain waves are actually smoothed out, but not flattened out, by supplemental L-Theanine. The body is relaxed, the mind is calmed, but no drowsiness occurs. Those taking L-Theanine felt like they slept longer than they actually did. (2)
3. Enhance Mood: L-Theanine can cross the blood-brain barrier and positively affect brain chemistry. Scientists have investigated its mood-modulating effects. The results of those studies have led to L-Theanine being patented as a mood enhancer. How it works is not completely understood, but researchers have discovered that L-Theanine changes levels of amino acids affecting serotonin and other neurotransmitters in the brain.
4. Enhance memory, by reducing effects of stress: Stress and depression cause memory loss. Although usually thought of as mere psychological states, stress and depression cause physical changes in body chemistry. The brain is notably affected. Stress hormones known as glucocorticoids are activated by both stress and depression. In turn, they cause imbalances in brain chemistry that interfere with mood and memory. Counteracting glucocorticoids is extremely important. L-Theanine also suppresses glucocorticoids, and it is one of the few dietary supplements that cross the blood-brain barrier. (2)
Ms. Sourek shares the benefits of Inositol:
1. Reduce depression and mood swings: Inositol is known to participate in the action of serotonin production in the brain and nerve systems that respond well to mood stabilizers. Inositol might balance certain chemicals in the body to possibly help with conditions such as panic disorder, depression, and obsessive-compulsive disorder. (3)
2. Lessen diabetic neuropathy: Another great benefit of inositol (as part of the B-complex) is that it can have a positive impact on body cells. Diabetic neuropathy, a nerve disease that is the most frequent complication in diabetics, can be treated well using inositol supplements. Since most of the decreased nerve function is down to a loss of inositol in the cell, increasing your intake can ease the symptoms. It won't cure the disease, but it will make it more bearable when combined with other diabetic neuropathy treatments.
3. Polycystic ovarian syndrome: Inositol shows promise as a dietary supplement that can assist with polycystic ovarian syndrome by balancing certain chemicals in the body. (3)
Ms. Sourek concluded, "As a dietary supplement it is recommended to take one capsule of ProVitality L-Theanine one to two times daily, preferably on an empty stomach. I encourage people to talk to their health care provider before beginning any nutritional supplement regime."
About New Vitality Health Foods, Inc.:
Established in 1988, New Vitality Health Foods, Inc. provides Chicagolands' largest selection of allergy-free foods that have met their high standards for taste, quality, and nutrition. New allergy-free foods are introduced weekly. New Vitality features only the highest quality, effective nutritional supplements to support their customers' total health. They also carry frozen foods, vitamins, herbs, homeopathic, aromatherapy, body care, pet care, household items and much more. New Vitality Health Foods, Inc. is located at Orland Park Crossing, 14225 S. 95th Avenue Suite 410, Orland Park IL, 60462. (708) 403-0120 http://www.newvitalityhealthfoods.com
Sources:
(1) http://www.ncbi.nlm.nih.gov
(2) http://www.lef.org
(3) http://www.webmd.com/vitamins-supplements/ingredientmono-299-inositol.aspx?activeingredientid=299&activeingredientname=inositol