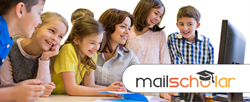 MailScholar's mission is to provide the world's best communications platform that connects schools with parents and students.
Sedona, AZ (PRWEB) September 10, 2015
MailScholar, Inc just launched their first KickStarter campaign to complete their Software As A Service (SAAS) for schools worldwide. MailScholar is the first application to take all of the communication methods that the average parent is using and tie these methods into school communications (which are quite dated).
MailScholar is 90% complete and working on the deployment of the free iOS and Android mobile apps which parents download to receive their free push notifications from Principles and Teachers.
CEO Roger Braun explains, "MailScholar fills a long term need that many parents have been lacking. A real-time feedback portal into their child's educational progress. Why wait for 3 months to sit down at a parent/teacher conference when the teacher can simply email, text, or instant message you with what your child is struggling in? It's crazy to think schools are still sending home paper notes and making hardline telephone calls to schedule some distant meeting. Shouldn't we bring schools into the now with social media, email, text messaging, and smart phone apps? MailScholar does all of that and more."
MailScholar goes further than just addressing North American Schools. Roger has his eyes set on making MailScholar the communication application for schools around the world. With the recent immigration crisis Roger has instructed his team to work on adding a mobile translation device to the MailScholar application which translates the teacher's message into the student's native language. All homework assignments are understood, all student struggles are identified, and no one is left out of the loop.
MailScholar is already in BETA and plans to launch in January 2016. The MailScholar team is currently running a KickStarter.com campaign to gain final funding to complete the project. All those interested in the project or donating can visit the MailScholar KickStarter.com page at: https://www.kickstarter.com/projects/mailscholar/mailscholar-easy-to-use-school-communications-soft