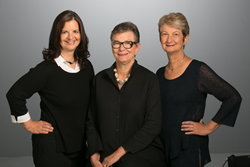 Paragon Real Estate Group's rapid expansion continues with new hyper-local agents coming on board every month.
San Francisco, CA (PRWEB) September 11, 2015
Paragon Real Estate Group has announced the addition of three highly productive expert Realtors to its San Francisco office. Pota Perimenis, Gina Enriquez, and Paula Fracchia bring a wealth of expertise and hyper-local real estate knowledge to the Paragon umbrella.
Pota Perimenis is a top San Francisco Realtor having sold hundreds of homes since 1991. She knows the pulse of the San Francisco market at all times and points out opportunities as well as pitfalls. Originally from Miami, FL she has lived in San Francisco almost 30 years. She speaks Greek fluently and loves to travel extensively. She is a San Francisco property owner with personal experience in TICs and condo conversions. When not working she enjoys yoga, travel, and long walks with friends. Pota has a son and is an active school volunteer, also assisting with school art auctions.
The team of sisters Paula Fracchia and Gina Enriquez specialize in helping people realize their real estate dreams. In a city like San Francisco the fulfillment of the dream of owning a home depends on solid, well-honed professional help. Gina and Paula have been business partners for over 30 years in San Francisco. They have bought and sold property, owned and managed income property and have done extensive remodeling. They have worked professionally staging homes for national magazines and translated those skills into the ability to help clients with complimentary staging advice. Most importantly they have been providing excellent professional real estate services to a growing list of clients for over 30 years. They are both residents of San Francisco and have raised their families here. They both hold degrees from the University of San Francisco, Gina in business and Paula in sociology. A great combination for negotiating, they really enjoy working together and offer a unique partnership that gives clients the benefit of two professionals working for them fulltime.
About Paragon - Paragon is a locally owned and managed real estate company in the Bay Area that conducts business across all market segments – residential and luxury home sales, investment and commercial property sales and leasing, new home sales and rentals. We have built our success on preparing for and ensuring yours. http://www.Paragon-RE.com , 1400 Van Ness, San Francisco, CA. 94123. 415-738-7000.