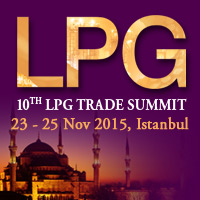 The who's of who of the LPG industry is participating at this 1.5 days of focused discussions on market trends in countries spanning – Qatar, Iran, Russia, USA, Japan, South Korea, China as well as the West African countries.
Istanbul, Turkey (PRWEB) September 14, 2015
In reviving its distinctive discussions on global LPG supply/ demand & trade dynamics and much more, this year's event will kick-off with a full day pre-summit workshop on 'LPG Pricing, Trading, Shipping & Risk Management' facilitated by Fabien Markiewicz, Broker - Consultant Energy Products, FM Energy Services.
For the main summit, sessions to look forward to include 'Global LPG Market: The New Normal' by Michael Panas, NGL Consultant, Poten & Partners and 'Qatar LPG Outlook in an Evolving Market' by Abdulla Al-Naemi, Executive Director, LPG, Sulphur & Shipping, Qatar International Petroleum Marketing Company (Tasweeq). The program agenda also showcases country-focused discussions on:

LPG Export & Development Potential in Post-Sanctioned Iran – Dr. Iman Nasseri, Senior Consultant, FGE Energy
Russian LPG Export Market Dynamics & Key Development for the Black Sea Region – Alexey Markov, Sales Executive, LPG, OJSC Sibur
LPG & Ethane Supply & Demand in the US Market – Kendall Puig, NGL Analyst, BENTEK Energy (a unit of PLATTS)
The West African LPG Market Development & Demand Growth Outlook – Azeez Ganiyu, Head, LPG, Oando Marketing
Japan's LPG Demand/Imports Requirement Outlook – Shigeo Ishikawa, Representative Director, Executive Vice President, ENEOS GLOBE Corporation
PDH Update & Deep-Processing Unit Development in China – Tony Liang, Purchasing Manager, Wanhua Chemical Group
The climax for the summit is the much-awaited LPGtrade Awards Night – Networking Reception & Gala Dinner – hosted & sponsored by Bayegan Group and whose Director for Trade & Operations – Emin Imanov, will share future perspective of the LPG Industry in a key session – '2016 – What's Next?. Four categories of awards will be conferred namely – Best Trading Company 2015, Best Logistics Partner (Shipping) 2015, Best Broker 2015 and Personality of the Year 2015.
Delegates of the Istanbul summit can expect insightful session on 'Global Petrochemicals Outlook & Changing Feedstock Environment: Prospects for LPG' delivered by Xuesong Peng, Senior Consultant, Energy & Chemicals Advisory, Nexant and another on 'Large LPG carrier (or VLGC) Freight Market: A New Reality' by Nicola Williams, Market Analysts, LPG and Ammonia, Clarkson Securities. The agenda also has a panel discussion on '(Producers, Traders & Shipping): Sustaining Market Growth Amidst Volatility & Competition'.
With more than 10 hours of networking time, the LPG summit will help stakeholders to meet and renew business ties and forge new business relationships.
View official website or contact Ms. Huiyan at +65 6346 9113 for further details.