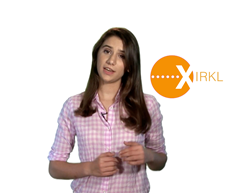 Security and privacy are missing from social media. I want to bring that back
Los Angeles, CA (PRWEB) September 10, 2015
Xirkl, a social media platform developed by fifteen-year-old Anneke DiPietro with help from friends and family, began as a homework assignment and could end up redefining an entire industry. It's based on a surprisingly simple premise. "Any number of people can follow you, but you can only follow 21 people," Ms. DiPietro explained.
"People had the same reaction when I first described it," she admitted. "I would tell someone I was working on a new social network and right away I could tell they were humoring me. But the idea of 21 people would start to sink in, and their eyes would light up as they figured out how this could work for them personally. That was always a great moment for me."
Social networks are defined by their limitations, Anneke explains in her Kickstarter video, using Twitter's 140 characters and Vine's six seconds as examples. "It's what makes them interesting." By limiting the number of people any single user can follow, the value of each of those people goes up exponentially. "It's the difference between everybody at school and the people at your table in the cafeteria. That's your inner circle."
Xirkl (pronounced "circle") will be familiar to anybody who uses social media. Text and voice messages, photos, video and scrolling timelines are instantly recognizable, along with a bouncy interface derived from mobile gaming. What sets Xirkl apart is how users control what gets into their feeds and what doesn't. Most people will follow close friends and maybe a few school or professional contacts as well as celebrities and a news feed or two. And even though each user can only follow 21 people, any number of people can follow a user. This is where advertisers come in. If you invite anyone into your Xirkl, it's because they've earned that spot. This applies to everyone, from your oldest friend to a major celebrity or national brand. You can drop anybody from your Xirkl with a swipe of your finger, and no one gets in that isn't invited.
One of Xirkl's most innovative features came from an unexpected source. Anneke babysits two eight-year-old girls in her Atwater Village neighborhood and was heartsick at the thought of them being harassed or exposed to "repulsive content" as she calls it. From the outset, she insisted on providing special tools that make Xirkl safe for younger children.
"Xirkl will always work for members, not strangers. That's rule number one!" Anneke promises emphatically. "Security and privacy are missing from social media. I want to bring that back."