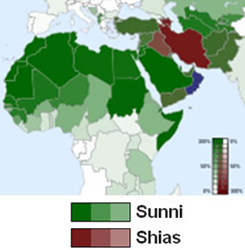 The Middle East & Africa 2014 homeland security & public safety market of $ 33.5 billion will grow to $70.8 billion by 2022.
Washington D.C. (PRWEB) September 17, 2015
According to the Global Homeland Security & Public Safety Market – to 2022. Focus on Middle East & Africa report, the recent ME&A conflicts (e.g., in Yemen, Iraq, Syria, Nigeria, Israel-Gaza, Egypt-Sinai), wherever regional governments' armed forces and internal security agencies had an overwhelming combat power, their adversaries (e.g., Al-Qaeda, Taliban, ISIS, Hamas, Hezbollah, 'Free Syria' movements) resorted to simple and "effective" tactics, based on the use of suicide attacks, on-camera executions, cyberspace ,mass media "marketing" and subterranean warfare.
The challenge posed by these insurgency tactics is a key factor to the Middle East and Africa security market growth where the region's governments take dramatic measures. These measures include the following:
1. An "Invest Whatever It Take" policy to defeat foreign and homegrown insurgency to secure the regime (this is especially true for the GCC government's use of their petrodollars)
2. Procurement of state of the art Intelligence systems such as UAVs, SIGINT & C-5ISR systems & services
3. Support and fund foreign allies (e.g., Saudi funding of Egypt El-Sisi regime)
4. Enlarge and equip special forces
According to the report, the Middle East & Africa market growth is boosted by the following drivers:
1. The recent wave of ISIS and other insurgency across the Middle East and Africa
2. The region's accelerated security forces and security agencies equipment procurement
3. Premium ME&A prices of new equipment and services
4. The high cost of foreign security services and security technology professionals
5. Replacement and upgrades of outdated systems
6. Growing aftersale revenues
7. Major infrastructure expansion projects in the GCC States
8. Cyber Security
9. Police modernization
10. New security related ICT technologies.
11. Rapid growth of the region aviation sector
12. Replacement and upgrades of outdated security-related systems
These lead the Middle East & Africa 2014 HLS & PS market of $ 33.5 billion to grow to $70.8 billion by 2022.
The Global Homeland Security & Public Safety Market – to 2022. Focus on Middle East & Africa report provides a wealth of information and presents a clear analysis of where the ME&A market is heading. The report is based on diverse aspects and understanding of the market.
The report examines each dollar spent in the market via 2 orthogonal money trails:
1. By 8 National Markets:
1. Iraq
2. Israel
3. Kuwait
4. Nigeria
5. Oman
6. Saudi Arabia
7. Turkey
8. U.A.E.
2. By 2 Funding Sources:
1. Government
2. Private sector
The a report is a resource for executives with interests in the industry. It has been explicitly customized for decision makers to identify business opportunities, developing technologies, market trends and risks, as well as to benchmark business plans.
Questions answered in this 3 volume 732 page report include:

What will the Middle East & Africa national markets size be in 2015-2022?
What are the main Homeland Security & Public Safety technology trends?
Where and what are the market opportunities?
What are the HLS & Public Safety market drivers and inhibitors?
What are the challenges to the HLS & Public Safety market?
The Global Homeland Security & Public Safety Market – to 2022. Focus on Middle East & Africa report presents in 732 pages, 117 tables and 174 figures, analysis of current and pipeline technologies and vertical submarkets. The report is granulated into 2 funding source submarkets for each country, presents for each submarket 2011-2014 data, analyses and projects the 2015-2022 market.
It presents the HLS & PS:

Business opportunities and challenges
SWOT analysis
Market analysis (for each country and submarket)
National market backgrounds
Current and pipeline Homeland Security & Public Safety technologies in fields of:
1. Security related Big Data
2. Bio-Agents & Infectious Disease Detection
3. Biometrics
4. Security related C2/C4ISR Systems
5. Chemical, Hazmat & Nuclear Detection
6. Cloud Based Security
7. Communication Systems & Devices
8. Counter-IED Technologies
9. Cybersecurity
10. Decontamination of CBRN & Hazmat Incidents
11. Electronic Fencing
12. Explosives Trace Detection (ETD)
13. Intrusion Detection Systems
14. Mass Emergency Notification Systems
15. Metal Detectors
16. Natural & Manmade Disaster Early Warning, Rescue & Recovery Equipment
17. Non-Lethal Weapons
18. Personal (Ballistic & CBRNE) Protective Gear
19. Security Related RFID
20. Standoff Explosives & Weapon Detection
21. Tomographic Explosive Detection Systems (EDS)
22. Vehicle & Container Screening Portals
23. Video Surveillance
24. Video Analytics
25. X-Ray Screening
Vertical Homeland Security & Public Safety sub-markets background:
1. Aviation Security
2. CBRN & Hazmat Security
3. Land Border Security
4. Counter-Terror & Counter-Crime Intelligence
5. Critical Infrastructure Security
6. Law Enforcement, Police Modernization & 1st Responders
7. Maritime Security
8. Land Transportation Security
9. Oil-Gas Industry Security
10. Public Events Security
11. Private Sector Security
12. Safe Cities
13. Diplomatic Corp Security
14. Natural Disasters Mitigation & Relief Equipment & Systems
15. Other Vertical HLS & Public Safety Markets
Explore more Homeland Security and Public Safety Reports at http://www.homelandsecurityresearch.com.
About Homeland Security Research Corp. (HSRC)
Homeland Security Research Corp. (HSRC) is an international market and technology research firm specializing in the Homeland Security (HLS) & Public Safety (PS) Industry. HSRC provides premium market reports on present and emerging technologies and industry expertise, enabling global clients to gain time-critical insight into business opportunities. HSRC's clients include U.S. Congress, DHS, U.S. Army, U.S. Navy, NATO, DOD, DOT, GAO, and EU, among others; as well as HLS & PS government agencies in Japan, Korea, Taiwan, Israel, Canada, UK, Germany, Australia, Sweden, Finland, Singapore. With over 750 private sector clients (72% repeat customers), including major defense and security contractors, and Fortune 500 companies, HSRC earned the reputation as the industry's Gold Standard for HLS & PS market reports.