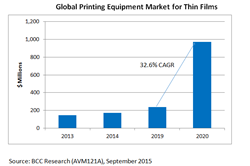 The global market for printing equipment for thin films is expected to reach $973.7 million by 2020
Wellesley, Mass. (PRWEB) September 10, 2015
Soaring demand for thin-film printing equipment (TFPE) should quadruple market value in the next five years. BCC Research reveals in its new report evolving thin-film technologies and advances in miniaturization are two key factors stimulating huge growth in this dynamic market.
The global market for TFPE should increase from $237.8 million in 2015 to $973.7 million in 2020, reflecting a five-year (2015-2020) compound annual growth rate (CAGR) of 32.6%. Thin-film printing equipment for optoelectronic applications, the largest segment of the market, should gain $434.8 million during the forecast period to reach $570.3 million in 2020. Electronics, the fastest growing segment with a 36.5% CAGR, should total $240.9 million in the end year.
A variety of factors are stimulating big growth in the market. Drivers include rising demand for portable, wearable and flexible electronics, the need for low-cost deposition processes, advancements in printing technologies, and a growing availability of nanomaterials with improved properties at reduced unit prices. Miniaturization also will be a key driver.
"During the past 30 years, on-going miniaturization in the semiconductor industry has had a tremendous impact also on other sectors. As a result, there is a continuous effort to create components and products that are smaller, thinner, lighter and, for certain applications, flexible," says BCC Research analyst Margareth Gagliardi. "The newest trend is the fabrication of wearable electronics, which include products such as entertainment devices, smart clothing, sensors and biosensors."
Printing Equipment for Thin Films: Global Markets (AVM121A) examines the global market in terms of growth, size and opportunities for different products, technologies, and also regionally. The report includes forecasted trends and revenue through 2020.
Editors and reporters who wish to speak with the analyst should contact Steven Cumming at steven.cumming(at)bccresearch(dot)com.
About BCC Research
BCC Research publishes market research reports that make organizations worldwide more profitable with intelligence that drives smart business decisions. These reports cover today's major industrial and technology sectors, including emerging markets. For more than 40 years we've helped customers identify new market opportunities with accurate and reliable data and insight, including market sizing, forecasting, industry overviews, and identification of significant trends and key market participants. We partner with analysts who are experts in specific areas of industry and technology, providing unbiased measurements and assessments of global markets. Recently selected as the world's greatest market research company, BCC Research is a unit of Eli Global, LLC. Visit our website at http://www.bccresearch.com. Contact us: (+1) 781-489-7301 (U.S. Eastern Time), or email information(at)bccresearch(dot)com.