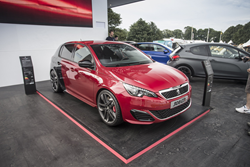 The FRACTAL concept car features a removable roof, converting it from coupe to cabriolet in seconds, and weighs just 1000kg.
(PRWEB UK) 21 September 2015
Peugeot is set to unveil the second generation of its Peugeot i-Cockpit interior technology as part of the release of its FRACTAL concept car, at this year's Frankfurt Motor Show. The French vehicle manufacturer will also use the automotive exhibition as a launch-pad for its New 308 GTi by Peugeot Sport and showcase the Peugeot 308 R HYbrid vehicle.
The two-door FRACTAL concept car is driven by two 168bhp electric motors, each powered by a lithium ion battery, with a combined power output of 335bhp. The FRACTAL concept car features a removable roof, converting it from coupe to cabriolet in seconds, and weighs just 1000kg.
Reaching 62mph from zero in 6.8 seconds, the FRACTAL concept is built for speed and designed to accommodate its height for excellent aerodynamics. It offers the ability to adjust its ride height, from 11cm in city environments to 7cm for motorway driving.
The FRACTAL's Peugeot i-Cockpit interior features a steering wheel with touchpads used to control the infotainment system. The holographic head-up display and digital instrument cluster can also be fully customised.
More than 80% of the FRACTAL concept car's interior has been made using 3D printing technology, with inspiration taken from designs and materials used in recording studio environments. This complements the FRACTAL's second generation sound system, which Peugeot claims can appear to manipulate the direction of sound. The seats also have a built-in system for high quality bass sound.
The FRACTAL concept car also features its own digital sound signature, used to alert cyclists and pedestrians to its movement. This feature has been designed in response to upcoming European legislation on all electric cars featuring alert sounds by 2019. Peugeot is working with an EU initiative, the eVader project, to produce a symposer system for all electric vehicles. This will also feature in the new FRACTAL concept.
Now in its 66th year, the Frankfurt Motor Show will open from Thursday 17th September, and will see thousands of exhibitors present new automotive technology to attendees.
For more information about Peugeot's stand at this year's Frankfurt Motor Show, visit: http://www.peugeot.co.uk/frankfurt-motor-show/
ENDS
Notes to editors:
Press contact
To request additional information, please contact public relations manager Kevin Jones on:
E: kevin.jones(at)peugeot(dot)com
T: +44 (0)2476 884215
About Peugeot
Peugeot designs and manufactures production cars and concept models that are driven in 160 countries, having manufactured vehicles for 125 years. Peugeot's latest range of production vehicles includes the Peugeot RCZ R, New 308 and the 108.
About Frankfurt Motor Show
Known as the International Automobile Exhibition, this year the Frankfurt Motor Show celebrates its 66th anniversary, presenting an opportunity for the European car industry to showcase its latest automotive technologies.