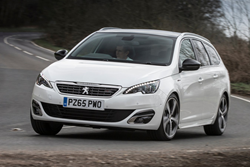 Peugeot owners aren't just happy with their Dealerships; they're pleased with their cars and the ownership experience too.
(PRWEB UK) 11 September 2015
•Auto Express Driver Power sees Peugeot Dealers climb to fifth overall for aftersales
•Dealers take significant step forward in how they conduct sales
•Peugeot ranks highly for customer loyalty
Peugeot owners have given the brand a resounding thumbs up in the latest Auto Express Driver Power survey. The newly published report, which gives owners the opportunity to rate their experience at Dealerships, saw Peugeot continue to race up the rankings. For aftersales, the French firm finished fifth overall, a four-place improvement on 2014. In sales terms too, owners believe Peugeot Dealers have made a significant step forwards, up from 14th last year to eighth!
This year the Auto Express Driver Power survey collated the experiences of 60,988 UK car owners. Respondents are owners of new and used cars with 56 per cent owning cars that are less than three years old. In the all-important aftersales section, Peugeot continued an upwards trajectory that saw its customers rate it the most improved brand in the industry in last year's Driver Power. For 2015, Peugeot Dealers were the best European-owned brand and the first European mass market car maker among the 32 manufacturers ranked.
In the six aftersales areas, respondents are asked to rate helpfulness and attitude, standard of workmanship, cleanliness and atmosphere, technical knowledge, keeping owners informed and value for money. Peugeot Dealers comfortably eclipsed all their 2014 scores. In position terms, compared to other manufacturers, Peugeot Dealers finished ahead of their 2014 place in five of the six categories.
For vehicle sales, Peugeot Dealerships finished eighth out of the 32 car companies rated, up six places compared to 2014. Dealers eclipsed their 2014 scores in all eight categories. They also finished higher compared to rival manufacturers in all classes than they did in 2014.
Peugeot owners aren't just happy with their Dealerships; they're pleased with their cars and the ownership experience too. The company's Net Promoter Score (NPS), a ranking used to gauge the loyalty of customers to brands, is more than 70 per cent when the average of all models is taken. The rating is particularly high (more than 70 per cent) on the 108, 2008, current 308 and RCZ. Any NPS ranking higher than 50 is viewed as 'excellent'.
When Peugeot drivers were asked what they would improve on their car, the most popular response was… nothing! More than a quarter of owners said their car couldn't be bettered, by far the single most popular response among Peugeot owners. The survey also revealed that 85 per cent of Peugeot owners wouldn't rule out buying another car from the French maker.
As a manufacturer, Peugeot finished in 10th position overall out of 32 in Auto Express Driver Power, up four places compared to 2014. Their cars' reliability was the quality the majority of owners most liked about their Peugeot and the company finished the survey ninth overall in reliability terms, ahead of brands that are considered by some to be famed for their dependability.
Full results are in the 29 July Special Issue of Auto Express. For more on Driver Power see: http://www.autoexpress.co.uk/driverpower
About Peugeot
The Peugeot brand can trace its roots back to 1810. It was in 1890 that it began producing internal combustion powered automobiles. Since then, over 65 million vehicles have been produced. Demonstrated through its Brand signature 'Motion & Emotion', Peugeot is present in 160 countries, has 10,000 franchised Dealers and is recognised for the quality and design excellence of its products.
Peugeot UK
The UK is the 3rd largest market for Peugeot with its UK Headquarters located in Coventry. The UK car line-up includes the 108, 208, 308, 508, 2008, 3008, 5008 and RCZ, supplemented by people-carriers and a four-van range.
Peugeot UK Communications Contacts
Andrew Didlick, Director Communications, Events & Brand Partnerships
T: +44 (0)2476 884309 | M: +44 (0) 7836 362859 | E: andrew.didlick(at)mpsa.com
Kevin Jones, Head of Communications, Peugeot UK
T: +44 (0)2476 884215 | M: +44 (0) 7880 786596 | E: kevin.jones(at)peugeot.com
Louise Dowling, PR Manager, Peugeot UK
T: +44 (0)2476 884216 | M: +44 (0) 7767 490420 | E: louise.dowling(at)peugeot.com
Kerry Livesey, Press Officer, Peugeot UK
T: +44 (0)2476 884212 | M: +44 (0) 7940 078848 | E: kerry.livesey(at)peugeot.com
Craig Morrow, Press Fleet Officer
T: +44 (0)2476 884261 | M: +44 (0) 7747 764745 | E: craig.morrow(at)mpsa.com
For high-resolution downloadable images of the Peugeot product range, information and news stories, log onto the dedicated Peugeot Press website at: http://www.peugeotpress.co.uk (Newspress passwords apply)
Peugeot UK website: http://www.peugeot.co.uk