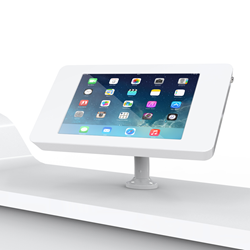 We can confirm that the Shell+, our most secure tablet enclosure, will be able to display the iPad Pro.
Poole, Dorset (PRWEB UK) 11 September 2015
Following the official launch of the iPad Pro imageHOLDERS will be adapting the Shell+ kiosk to enable the new iPad Pro tablet to be enclosed securely.
imageHOLDERS will adapt its current Shell+ range of enclosures to accommodate the larger sized iPad Pro tablet with ease, with the slightly increased sized kiosk being available from November.
The iPad Pro will be in safe hands as the Shell+ range is the most secure iPad and tablet enclosure kiosk available on the market.
The iPad Pro has been designed for enterprise and the Shell+ tablet kiosk enclosure is incredibly robust making it ideal for situations in retail, hospitality and leisure when staff can't monitor public interaction all the time.
Peter Thompson, Director, imageHOLDERS said: "we are always ready when the tablet industry releases new products. We have been awaiting the official launch details but can now confirm that following some size adaptation the Shell+, our most secure tablet enclosure, will be able to display the new iPad Pro when it becomes available in November."
The addition of the iPad Pro keyboard is unique to Apple and imageHOLDERS are in the process of designing and developing the Shell+ kiosk to incorporate the keyboard functionality into the enclosure design, as previously done with the Microsoft Surface Pro 3 with keyboard accessory.
The Shell+ range is extremely flexible and can be counter mounted, wall mounted or freestanding to meet customer requirements.
The Shell+ range is available in different size variations to cover a multitude of different tablets available in today's market including but not limited to Apple iPads, Microsoft Surface, Samsung Galaxy Tabs and Google Nexus.