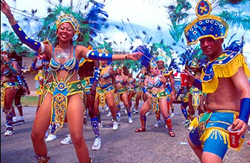 When you consider how many things the two countries have in common, it's no wonder that Belize and the United States share such a close bond
San Ignacio, Belize (PRWEB) September 12, 2015
Belize's September Independence celebrations have begun in earnest, with US Ambassador Carlos R Moreno's featured speech at the annual Expo Belize serving to illustrate the close relationship the two countries enjoy, according to The Lodge at Chaa Creek.
Chaa Creek co-owner and GM Lucy Fleming said it was significant that Ambassador Moreno was the event's guest speaker, as Belize and the US share a similar history and ties that include common languages and future goals.
"When you consider how many things the two countries have in common, it's no wonder that Belize and the United States share such a close bond," Ms Fleming said.
"Both nations celebrate their independence from Great Britain each year, have English as their primary and Spanish as the second language, are multicultural melting pots, share a strong democratic tradition and maintain huge national wilderness areas, among many other similarities," she said.
Ms Fleming and her husband Mick opened their family farm at Chaa Creek as one of Belize's first eco-resorts in September 1981 just as Belize achieved independence from Great Britain on the 21st of that month.
Since that time, she said, Belize and Chaa Creek have both grown from relative obscurity to become world-class tourism destinations.
Belize's independence celebrations, which span most of the month of September, have also seen dramatic growth, Ms Fleming said. This year's Expo Belize Marketplace attracted a crowd of nearly 17,000 and the entire country has geared up for a range of September festivities, including the national holidays of St George's Caye Day on the 10th and Independence Day on the 21st, as well as the various carnivals, parades, fiestas and parties that will be held from the jungle, mountain and savannah areas of the interior to Belize's Caribbean coast and the many tiny offshore islands known as cayes.
St George's Caye Day commemorates the 1798 Battle of St George's Caye, when Belize's early British settlers and slaves repelled a large Spanish invasion in a dramatic encounter near Belize's Great Barrier Reef off present day Belize City.
The victory is said to mark the formation of Belize's national identity and is seen as one of the first major steps leading towards September 21, 1981 when the former crown colony secured its independence from Great Britain.
The September 12 Carnival jouvert and Carnival Parade are also growing in numbers and sophistication. The exuberant carnival and after-carnival parties are followed by a national day of prayer on September 13th before each state capital and many towns and villages host a number of events that include parades, art displays, musical performances, dances, school rallies and other festivities in the lead up to Belize Independence Day.
"When you consider that independent Belize is only thirty-four years old, it's easy to appreciate the exuberance, sheer joy and patriotism that permeates the country during September.
"So it was particularly fitting to see US Ambassador Moreno taking part in the September events. It's just one more indication of the very healthy relationship between Belize and the USA. I'm sure, he, like most Americans, can appreciate how important Independence Day is to us and will join his fellow countrymen in celebrating with all Belizeans.
"Combined with the many Belizeans in the US and with those of us down here always celebrating the Fourth of July, it means that everyone can look forward to two great holidays each year," Ms Fleming said.
The Lodge at Chaa Creek is a multi award winning eco resort set within a 365-acre private nature reserve along the banks of the Macal River in Belize.
ENDS