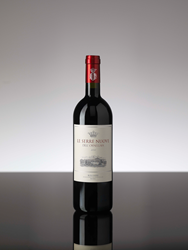 Bolgheri, Tuscany (PRWEB) September 10, 2015
Ornellaia, one of Italy's iconic estates, is proud to announce the launch of the 2013 vintage of their noted second wine, Le Serre Nuove dell'Ornellaia. To celebrate the wine's 18th release, Le Serre Nuove dell'Ornellaia is stepping out in style with a freshly restyled label as it reaches yet another important milestone in its illustrious history.
Describing the 2013 harvest, Ornellaia Estate Director and Winemaker Axel Heinz stated, "A marvellous summer and a cool, sunny September enabled a perfect ripening of the grapes, despite a difficult flowering period, resulting in wines that embody a particularly elegant expression. Le Serre Nuove dell'Ornellaia 2013 displays an intense, bright color, and the nose is vibrant and fruity, underscored by delicate toasty notes. On the palate, the smooth, silky texture contrasts with tannins of great freshness. While its structure will enable it to mellow with age, its crisp fruit and smooth, refined character make it perfect to enjoy straight away."
Made with the same passion and attention to detail as Ornellaia's flagship wine, and sourced primarily from the Estate's younger vineyards, Le Serre Nuove dell'Ornellaia is a true reflection of Ornellaia's pedigree. The first vintage was produced in 1997 following an even more rigorous quality selection during the blending of the base wines destined for Ornellaia, thus becoming Italy's first ever 'second vin.'
The 2013 vintage of Le Serre Nuove dell'Ornellaia will be released in November by Folio Fine Wine Partners at a retail price of $78.00.
About Ornellaia – http://www.ornellaia.com
Ornellaia's philosophy considers the birth of the wines to be the truest expression of their terroir. The grapes for Ornellaia are selected by hand, and picked in the estate's vineyards in Bolgheri, on the Tuscan coast. The varying natures of the estate's terroirs, marine, alluvial and volcanic, are ideal for the cultivation of Cabernet Sauvignon, Merlot, Cabernet Franc and Petit Verdot. The Estate extends over 97 hectares along the Tuscan coast, just a short distance from the medieval hamlet of Bolgheri and the famed cypress-lined avenue 'Viale dei Cipressi'. The constant work of the Ornellaia team and the ideal microclimatic and geological characteristics have brought the wines great international success in just twenty years since the first vintage of Ornellaia in 1985. In 2001, the 1998 Ornellaia was declared Wine of the Year by the American journal Wine Spectator. In 2011 the German publication Der Feinschmecker awarded Ornellaia its most sought-after award, the 'Weinlegende'. Ornellaia has received considerable recognition in the national and international press, and is consistently ranked among the top estates by Wine Advocate, Wine Spectator, James Suckling, Antonio Galloni, Bruce Sanderson and the Italian Wine Guides: Gambero Rosso, Espresso, Veronelli, Duemilavini AIS, and Luca Maroni.
About Folio Fine Wine Partners – http://www.foliowine.com
Folio Fine Wine Partners was founded in 2004 by Michael Mondavi and his wife, Isabel, with their children, Dina and Rob Jr. Folio is an importer, fine wine agency and producer of quality wines from the world's premiere and emerging wine regions, providing sales, marketing and public relations services to wine brands from California, Italy, Spain, France, Argentina, Austria, and Germany. Wines from California include Animo, Emblem, Hangtime, Isabel Mondavi, M by Michael Mondavi, Oberon and Spellbound. From Italy, are the wines of Arnaldo Caprai, Attems, Bruno Giacosa, Coppo, Dal Forno Romano, Danzante, Donnafugata, Marchesi de' Frescobaldi, Luce della Vite, Masseto, Ornellaia, and Villa Sandi. The Spanish portfolio includes Artadi, Capafons-Ossó, Fillaboa, Leda, Nita, Palacios Remondo and Vall Llach. From Argentina are the wines of Ben Marco, Crios, Nosotros and Susana Balbo, with Charles Heidsieck (France), Laurenz V (Austria), and Prinz von Hessen (Germany) completing the portfolio.