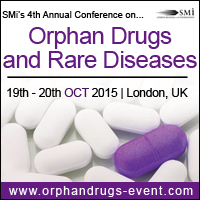 AKU Society, Pfizer, Scioderm, Inc. and The Ultra Rare Diseases, Disorder & Disabilities Foundation will present their case studies at the Orphan Drugs and Rare Diseases Conference this October
London, UK (PRWEB UK) 14 September 2015
Terence Hoey, CEO at The Ultra Rare Diseases, Disorder & Disabilities Foundation will tell the real story about rare and ultra-rare disease - a story that needs to be told by people whom are living the nightmare of rare and ultra-rare diseases.
A case study on the importance of collaboration in rare disease research will also be presented by Michael Skynner, Head of Rare Disease Alliances, Rare Disease Research Unit at Pfizer: His presentation will provide a cutting edge perspective from Pfizer's Rare Disease Research Unit, disclosing new findings and developments of new medicines.
Another highlight will be from Dr Robert Ryan, President & Chief Executive officer at Scioderm, Inc presenting: ZorblisaTM (SD-101): A tropical therapy in phase 3 for treating the skin effects associated with epidermolysis bullosa (eb). This Privotal Phase 3 registration trial is currently ongoing in the US and EU to evaluate the safety and efficacy of Zorblisa (SD-101) - a proprietary and novel topical therapy for the treatment of patients across all subtypes of Epidermolysis Bullosa (EB).
In addition, case study: DevelopAKUre – a patient-led clinical trial, presented by Dr Nicolas Sireau, Chairman and CEO at AKU Society, will discuss strategies of working closely with patients to develop a clinical trial programme. Discover what is driving new patient recruitment for successful trials and how to put together successful collaborations.
The 4th Annual Orphan Drugs and Rare Diseases Conference convening on 19th – 20th October will open the floor to:
Learn what strategic collaborations can help accelerate rare disease clinical drug development, discover how gene therapy is a real factor in clinical trials. This, and much more will be presented by leading industry experts from: Rare Disease UK (RDUK), Abeona Therapeutics, Roche Pharma Research to Early Development, Orphazyme, GSK and many more.
The conference will also include two interactive post-conference workshops: Market access to orphan drugs:
Controversies; trends and solutions led by ATP Market Access and
The rare disease patient perspective – from regulatory to clinical execution led by PSR Orphan Experts, Envestia Ltd and AKU Society.
For further information please visit: http://www.orphandrugs-event.com/vocus