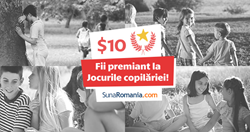 Atlanta, Georgia (PRWEB) September 12, 2015
For Romanians, September means going back to school and leaving childhood games behind. Even if they left Romania and moved abroad in search of a better life, Romanians still remember the excitement of the first day of school and the joy of playing games in the schoolyard. To make them relive the best childhood memories, SunaRomania.com invites its customers on SunaRomania.com Facebook page to choose their favorite childhood game and win $10 worth of international calls.
The "Childhood games" contest starts on Monday, September 14th until Thursday, September 17th. All customers have to do is post a comment mentioning their favorite childhood game. The most popular comment wins $10 free Voice Credit and the lucky customer may use this amount to call their school pals, childhood friends or neighbors or just family and remember those good old times.
Besides the contest, SunaRomania.com also prepared some short descriptions of the magical atmosphere surrounding the games played most often: "hide and seek," "the telephone," "Country, country, give us soldiers," or "Girls, boys, movies or flowers."
SunaRomania.com offers various services expats may use to get in touch with their loved ones: international calls (voice credit), mobile recharges and virtual numbers.
The Voice Credit service SunaRomania.com offers is friendly, intuitive, and works just like any other prepaid calling card, while offering all the benefits of an online service: calling history, automatic renewal, and incredibly low rates: only 1.5¢/min to call landlines and 3.9¢/min to call mobiles etc. Calls may be placed:

From any landline, mobile or even payphone in the world, through local or toll free access numbers.
Calls may also be placed through the app called KeepCalling, which is not chargeable. The iOS and Android applications may be used to call without having to dial any access number, and even any phone number at all. Once logged in the app, customers can use their phone Contacts to call.
From any PC with Internet connection, through the Web Call app available in customers' accounts.
In case Romanian expats call home on a regular base, they may use the Monthly Plan product offered by SunaRomania.com. Monthly plans are monthly subscriptions that renew automatically once every 30 days. In this case, Romanians can get 500 minutes for only $7.49/month to call any landline or mobile in Romania.
Even if calls are a great way to get connected to family and friends still living in Romania, Romanians living abroad can also send international top ups, using the Mobile Recharge service. Orange, Vodafone and Telekom mobile top ups are available, with values ranging from $6.12 to $61.25.
The Virtual Number subscription is a service that allows all Romanian expats living abroad feel closer to home and receive calls from Romania on their own phone for only $0.99 in the first month of use.
So, SunaRomania.com offers its customers various services they may use to stay connected to all the great people they left in Romania and whom they may call using the prize the Facebook contest offers.
About SunaRomania.com
SunaRomania.com is an interactive website designed by KeepCalling, a global telecommunications company registered in 2002 in USA. Presently, KeepCalling provides its services to hundreds of thousands of consumers and businesses, with a focus on customer satisfaction. KeepCalling has been listed by Inc 5000 as one of the fastest growing companies in the USA for 5 consecutive years. In 2015 the company registered a revenue increase of over 200% from 2011 to 2014.