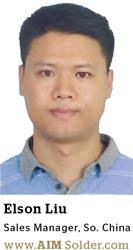 Cranston, RI USA (PRWEB) September 14, 2015
AIM Solder, a leading global manufacturer of solder assembly materials for the electronics industry, is pleased to announce the appointment of Elson Liu to the position of Sales Manager for south China. Elson will promote AIM's full line of solder assembly materials to the company's rapidly expanding customer base in China.
Having worked in the electronics assembly industry for several years in such roles as AOI engineer, equipment engineer and sales manager, Elson will be a great resource for AIM's existing and potential customers. Possessing an extensive knowledge of SMT manufacturing processes and defect detection, Elson's proven skills and expertise will be a valuable contribution to AIM's growing support team.
"I am pleased to see Elson join our global sales team," said David Suraski, AIM's Executive Vice President, Assembly Materials Division. "Elson is the second addition to our China sales team in recent months. We continue to invest in this important market to support the remarkable growth we are experiencing there."
Elson Liu may be reached by phone at +18823662163 or by email at eliu(at)aimsolder(dot)com
About AIM
Headquartered in Montreal, Canada, AIM Solder is a leading global manufacturer of assembly materials for the electronics industry with manufacturing, distribution and support facilities located throughout the world. AIM produces advanced solder products such as solder paste, liquid flux, cored wire, bar solder, epoxies, lead-free and halogen-free solder products, preforms, and specialty alloys such as indium and gold for a broad range of industries. A recipient of many prestigious SMT industry awards, AIM is strongly committed to innovative research and development of product and process improvement as well as providing customers with superior technical support, service and training.
For more information about AIM, visit http://www.aimsolder.com.
Upcoming Events:
September 27th – October 1st, 2015 – SMTA International – Rosemont, Illinois
October 20th – SMTA Connecticut – Waterbury, Connecticut
November 10th – 13th, 2015 – Productronica – Munich, Germany