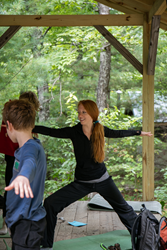 "Mindfulness is an easy way to cope with everyday stressors, such as anxiety and frustration. By doing five simple mindfulness exercises everyday, you can feel calmer and happier in your everyday life," says Jeniveve Rollins, Clinical Director of Trails.
Asheville, NC (PRWEB) September 11, 2015
In today's world, taking a moment to stop and smell the roses is something people do less and less frequently. On September 12, celebrate National Mindfulness Day by taking time to step out of autopilot and observe your actions, thoughts, and surroundings.
"Mindfulness is an easy way to cope with everyday stressors, such as anxiety and frustration. By doing five simple mindfulness exercises everyday, you can feel calmer and happier in your everyday life," commented Jeniveve Rollins, LCSW, MSW, Clinical Director of Trails Carolina.
1. Take part in mindful observation. When carrying out everyday tasks like washing the dishes, be aware of senses such as sight, touch, and smell. For example, you could notice what color the dish you're washing is, how the water feels on your hands, or what you're thinking about at that moment. Having an awareness of these senses can help you feel more focused and in the moment.
2. Change breathing habits. When inhaling and exhaling, instead of breathing in and out through your chest, breathe through your diaphragm. This has proven therapeutic benefits and it helps calm the nervous system. This exercise is especially helpful when you're stuck in traffic and start to feel frustrated. It can calm you down quickly and effectively.
3. Practice yoga. Yoga is intended as a flowing meditation. By allowing the mind to focus on how the body and mind are working and connecting with each other in the present moment, yoga provides a mindful experience that promotes deep meditation and relaxation.
4. Eat mindfully. Mindful eating is the practice of eating with intention and attention. By utilizing every bodily sense in determining what foods are both satisfying and nurturing, you can gain an awareness of what you need to fuel you in order to live vibrantly and successfully. Mindful eating is also about what kind of non-hunger triggers are affecting eating habits. By having an awareness of what hunger actually feels like, healthier eating habits can be formed.
5. Participate in mindful listening. So much of what is heard and seen from day to day is influenced by thoughts of the past. By taking some time to listen to music and get lost in the sound, without any judgments of the genre, artist, or lyrics, the experience of the texture and intricacies of the music are enhanced.
Mindfulness activities allow for an identification and reduction of negative, difficult or painful feelings, thoughts, and sensations. By being aware of everything in the present moment, an individual is able to focus on improving actions leading to these feelings and focusing on the positive aspects of life.
"Focusing on the present moment helps reduce stress and anxiety. If you're thinking about everything going on in the moment, you're not thinking about the aspects of your life stressing you out or making you unhappy. Mindfulness makes you a happier person, in general," says Kaitlyn Kertesz MSW, LCSWA, Family Therapist at Trails Carolina.
Trails Carolina is a wilderness therapy program for teens ages 10-17 struggling with emotional and behavioral issues such as depression, anxiety, and school refusal. By incorporating mindfulness exercises into the therapeutic program at Trails Carolina, teens are able to face their struggles head on and move forward on their path towards healing.
For more information about incorporating mindfulness into everyday life, please visit:
Mental Health Foundation: http://bemindful.co.uk/
__________________________________________________________
Trails Carolina is a wilderness therapy program based just outside of Asheville, North Carolina that offers a multi-dimensional wilderness therapy model to troubled adolescents, ages 10-17. Trails capitalizes upon the profound effects of a student's wilderness experience, and then combines that experience with strong clinical assessments and therapy. For additional information about Trails Carolina, please call 800-975-7303.